Another snowy morning watch 12-29-12
By Rochester Falcon Watcher MAK
There was a steady light snow coming down from the heavens on this mornings watch making everything look clean and white. However, it didn't make falcon watching the easiest thing to do as my pictures are dismal today. That's ok cuz if the falcons have to deal with it so should I! Shortly after I landed on the Broad St. Bridge Beauty landed on the out stretched money bag hand of Mercury.
She stayed with me in the semi darkness and snow for 10 minutes and then she was off to the east across the river and out of sight. Happy hunting Beautyful!  As I took a drive around to find her I came across some brave souls who were on a cherry picker getting ready to wash windows on the Powers building at Main and State streets.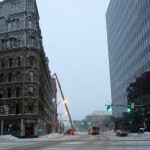 I never found Beauty so I ventured over to Brighton. It was snowing a little harder over there but I spotted Pigott on the southwest corner of the west extension looking big as life.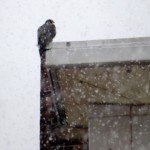 A few minutes after I arrived LarryO came by with his new dog Harold. They went for a walk as I stayed with Miss Pigott. She wasn't doing much of anything except looking north and shaking the snow off her every once in a while.
Larry left and I ended up hangin' with Pigott for a little over an hour. I think she was looking for BST to show up-so was I but that didn't happen. Perhaps he was off eating breakfast somewhere. At about 9:30am after a 2 hour morning watch I ended it with snow falling just as I had started it. And you can be sure I left smiling for I love falcons and snow! 🙂
Links below for a couple snow filled videos