Morning watch 2-28-13
By Rochester Falcon Watcher MAK
Today when I started my morning watch it was 32 degrees (F) 0 (C) with very light snow falling and no wind to speak of. Yesterdays slushfest is now only a memory!
I was driving down Court St. by Xerox when I saw Beauty up on the southeast corner of  HSBC. I turned down Chestnut St. to park in front of Manhattan Square Park but she took off as soon as I pulled over at 6:40am. I watched her fly straight up Broad St. toward the Broad St. Bridge (BSB) so I followed. I didn't find her with a trip around the city so I went to the Lake Tower (LT) apartments to check for a PEFA-nobody there. Returning to the BSB I found the Beautyful one on the top ibeam southeast side of OCSR-she was preening.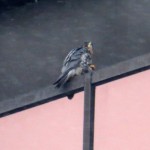 I watched Beauty preen,nap and watch the area for a potential meal. An hour and 15 minutes later she flew off to the west,went into a stoop after 2 pigeons.
One of them veered off to the north with Beauty staying on the other ones tail. As they approached the Telesca building on the corner of Main and State. St. the pigeon put on a spectacular move and flew off free as Beauty gave up the chase flying north out of view behind the Crossroads building. Again I followed behind and found Beauty on the west corner top ibeam of OCSR. I parked across from the Rochester Plaza Hotel on State St. and observed Beauty for 20 minutes before she flew off.
I watched as she flew behind the Crossroads building, then she turned left and shot straight up Exchange St. disappearing behind the Wilder building. 25 minutes later at 9:15am as I was on the Court St. bridge I noticed Beauty had returned to the southeast side top ibeam of OCSR. I decided to go to the Brighton Site (BS) to check at that time finding Pigott on the west end of the south side vent'
In the 15 minutes that I shared space with Miss Pigott there were 3 Canadian Geese honking away causing quite the racket. They nest on the roof of a lower building on the south side of the property which is below the vent Pigott was on.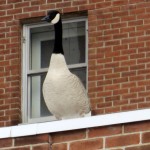 Pigott flew off to the east and didn't return so I made my way to the back road out of the property where I spotted 2 crows dive-bombing a Red-tailed Hawk in the sky. As I returned to downtown my search for Beauty was in vain so I went to LT and then the Kodak Park (KP) site-both were void of any falcons.  I spotted a Red-tailed Hawk in a tree at KP that was being harassed by a couple of crows. Boy oh boy crows are quite the bullys with raptors eh!?
Red-tails are my favorite hawk and this one sent me on my way with a big smile on my face as I ended my watch at 10:30am! 🙂
Click the links below to view more pics and videos from my watch
http://share.shutterfly.com/action/welcome?sid=0AaN3DFm0ZMWrXGA
http://youtu.be/QwI6uz_KsLw
http://youtu.be/yNb6sOhu_oc
http://youtu.be/ex_EZj2BZHA
http://youtu.be/SjS5PW6IjsQ
http://youtu.be/wRL7F4LvqY8 http://youtu.be/of-BaAj6K4w
http://youtu.be/of-BaAj6K4w
http://youtu.be/HfAD1zjlX30