Could Quest Be Settling Down?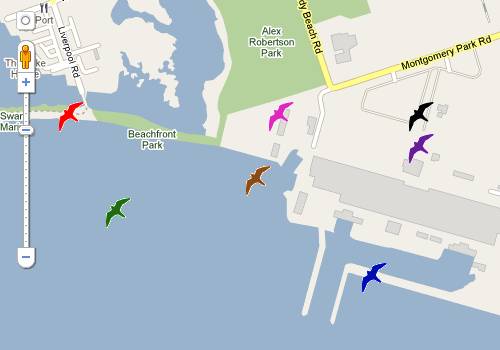 Quest's latest location data are all clustered in the immediate area around the Pickering Nuclear Power plant in Pickering, Ontario Canada. Not only that, but just this past weekend she was spotted there by Rochester Falconcam watchers Joyce and MAK. They tell us that Quest was once again seen in the company of a male peregrine, and that they were both acting very comfortable with each other.
Even better, Joyce took some pictures! Here's a few for you

And finally, a shot of Quest passing overhead. Her transmitter is clearly visible in this picture.

We're very pleased that we've finally gotten some pictures of Quest to share with you, and we're grateful for the efforts of Joyce, MAK, and all the other watchers who have made the long trip to Pickering Ontario in search of our intrepid peregrine. It seems like she's pretty comfortable at the power plant, and if she has found a mate in this male, we may even be able to look forward to some nesting activity next year. We'll keep our eye on Quest to see if she decides to make this her permanent home.