Beauty and Unity Throwdown at Kodak Tower?
Our friends at Kodak sent over a couple of pictures taken yesterday afternoon near 1PM local time, on the 18th floor balcony of the Kodak Tower. The pictures show two adult Peregines, both about the same size, having a pretty intense-looking fight: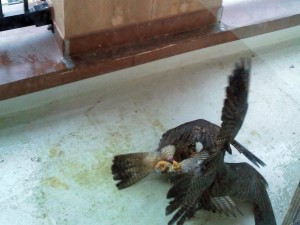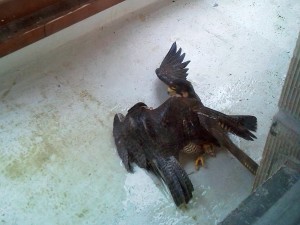 If you look closely at these images (click them to view larger versions) you'll see that one of the falcons sports a purple leg band, while the other has a black and green band. We know that Unity's USFWS band is purple, and Beauty's state ID band is black/green. At the time of the fight, Beauty was not on the nest at Times Square. She had left about 20 minutes beforehand. We didn't have any watchers at Kodak Park at the time to see whether Unity was there, but the chances that we have 2 adult Peregrines from the midwest US (where they use purple USFWS bands) at this time of year is unlikely.
According to the photographer, both birds flew off to the north soon after the photos were taken. Beauty returned to the Times Square nest box later in the afternoon, looking pretty normal for her, and Falconcam team member Carol P reports that Unity was at her KP nest when Carol dropped by around 3:45PM yesterday.
So, what's going on here? Peregrines' natural territoriality and aggressiveness is on overdrive during nesting season. We're hopeful this was nothing more than a territorial spat, rather than a sign of things to come. We'll be keeping a close eye on the situation going forward, but with any luck this was a one-time dust-up that helped both of our resident females to reinforce their respective territorial boundaries.