ROC the Day! December 8th, 2011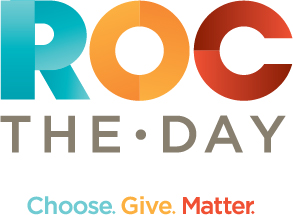 COUNTDOWN: 4 DAYS TO GO….ONE DAY OF EPIC GIVING.
Calling all ROCstars! ROC the Day, the Greater Rochester's first-ever, community-wide day of giving, is only 4 days away. Join us on December 8 as we come together to ROC the Day for more than 600 not-for-profits, including rfalconcam.
It's as easy as 1, 2, 3.
Do your kids have to program your cell phone for you? Is your remote just a little too tricky? If yes, rest assured…giving during ROC the Day is going to be simple. Here's how it will work:
1. Go to www.ROCtheDay.org
2. Choose rfalconcam (listed in the Animals or The Environment categories)
3. Give with a simple, one-time online donation
500 reasons to give on December 8.
Every ROCstar donor, INCLUDING YOU, will have a chance to win an extra $500 for the charity of your choice. All you have to do is give a gift on December 8 to any participating organization preferably rfalconcam. Twenty-four people will be randomly chosen to get a free bonus added to their gift. Think of all the great things rfalconcam can do with $500 extra FREE bucks!
See you there.
We can't wait to ROC the Day together on December 8. See you there!