2016 Rfalconcam Calendar Now Available!
The Rfalconcam 2016 Calendar is now available and ready for sale at our Zazzle store just in time for the holidays! Our main camera captured many unbelievable images of our falcon family this year. There were so many to choose from!
Many thanks to this year's contributors; Annette Bachstein, Patricia Carey, Donna Cook, Kristine Genagon, Eileen Karle, Linda King, Kathy Majich, Dana Mulhern, Carol Phillips, Ruth Rutty and Linda Schlaffer.
Please consider purchasing one for yourself to help support the Rochester Falconcam.
Link for New Calendar:
2016 Rochester Falcons RFalconcam Calendar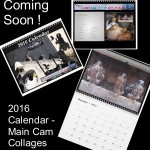 Special thanks to Merchandise Team Member Dana for putting this calendar together.
Rfalconcam Merchandise Team