Aria (2016) Has Been Spotted in Etobicoke, Ontario, CA!
We've received some bittersweet news from our friends at the Canadian Peregrine Foundation. Sweet because Aria, one of our young falcons from 2016, has been spotted in Etobicoke, Ontario, CA at an established nest site with a male named Lucky. Bitter because O'Connor, the female at this nest site for the past five years, has not been seen in quite awhile. Many of us have followed O'Connor for a very long time and have come to love her. We all hope that she is ok and that we will see her again in the future.
Here is the post on the Canadian Peregrine Foundation's Facebook page:
"It is with sadness that we must report a change in the resident female at the Etobicoke nest site today. O'Connor is no longer present. A few weeks ago now, a cam watcher noticed that the female on camera at Islington and Bloor that did not look like O'Connor and had what appeared to be a silver USFW band rather than the anodized purple that OC bears. We did not want to post any news regarding this until the situation could be confirmed by one of our great volunteers and Lucie took up the task along with Kathy to ferret out the truth of the matter. Kathy continued to monitor the oddities in the pairs relationship and Lucie came down with camera and scope in hand. We can now confirm that the resident female currently on site is Aria, banded black / green 85/BA from Rochester, New York, daughter of Beauty and Dot.Ca. While we welcome Aria to Canada, we also are thinking about our fabulous O'Connor. It is important to note that this is not the first time O'Connor has abandoned a site as a result of pressure. Lately there has been workers on the rooftops of all three Etobicoke towers as well as this young female on the fringes. This is a carbon copy of what happened in 2011 at the William Osler site that O'Connor used to call home. She left Osler as a result of the exact same pressures and headed south to ESL where she took over the site from Angel, the long standing unbanded female there. We may see O'Connor return to ESL in the spring or even re-emerge at another site in Ontario or beyond, her lack of presence not in any way confirmation of her demise. We hope to see her again some day. Thank you to all who alerted, monitored and participated in this recent discovery. I apologize for not publishing sooner but we will never post something of this magnitude without confirmation from the ground first as this is a serious change. Once again, thanks to all for your help in this."
Aria is the daughter of Beauty and Dot.ca! She hatched on top of the Times Square Bldg in 2016, along with siblings Matilda, Lilac and Leo. They were all banded on 5/24/16. Here's Aria on her banding day.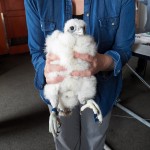 Aria, which means wind and, in some meanings, bird, was named by Rochester Falcon Watcher Jeanne Yamonaco. She was banded with a Black 85 Over Green BA NYS band and blue tape over her silver USFW band.
Kathy Majich, an Etobicoke Falcon Watcher, sent us a couple pictures of Aria taken by photographer Roger Leekam. She is a beautiful sub-adult! Thanks for sharing these stunning pictures Roger and Kathy!
Kathy has also shared some observations of Aria's behavior since she's arrived in Etobicoke:
"It's such a learning experience having a one year old on site – well 17 month old! I've watched 1 year olds raise kids on cam but never had the pleasure of having one here in person to watch. She's very much like a juvie in some ways, she chats a lot, announces it to the world when she's caught food..lol! People keep asking me if she's okay, is something wrong – why is she yelling..lol! She sits on the nest ledge sometimes and gazes up at Lucky adoringly and other times she flies around and entices him to go flying with her – very sweet. I don't underestimate her though, whether or not she and O'Connor met – she's here and she's holding the territory. As you know there are many singles around that would love a home, so the fact that she's holding her own so far is good! And she can hunt really well, pigeons, gulls, etc. She was well taught that's for sure. And she flies like a daredevil ..which I admit makes me nervous. But she's not careless that I've seen…just young and enjoying being a Peregrine. Talons crossed she settles in well and next year we have some B and DC grand-kids to watch!"
Also, did you know that this is where Aria's dad, Dot.ca hatched! His parents Jack and Angel were the territorial pair at Etobicoke before O'Connor and Lucky arrived. We had this same thing happen here in Rochester when Archer arrived. Archer was the son of Freedom, who was the son of Mariah and Kaver. It's a small Peregrine Falcon World!
Here is the link to the webcam at Etobicoke Sunlife. You just might be lucky enough to catch a glimpse of Aria and Lucky!
http://www.peregrine-foundation.ca/Web_Cams/Etobicoke/index.htm
I'll end this Imprints by adding a picture of Aria at her new nest site. We all hope that O'Connor is safely off somewhere and that Aria, with her new mate Lucky, successfully raise young in 2018!