Rochester Falcons Beauty & Dot.ca's First Egg Has Arrived! 3/27/18
If you fell asleep last night before midnight, you missed the arrival of Beauty and Dot.ca's first egg of 2018! We had our first view of the newly arrived egg at 12:02 am. Of course we're all very egg-cited to see it this morning. It's a sure sign of Spring!!!
We had a nice look at the egg when the sun came up.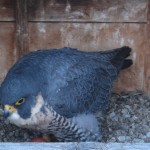 Dot.ca brought a food gift to Beauty. While she left to eat her breakfast, Dot.ca watched over the egg.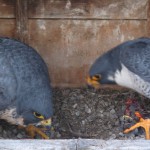 It didn't take long for Beauty to return. Both Beauty and Dot.ca will take turns guarding the eggs.
Congratulations to Beauty, Dot.ca, the Rochester Falcon Watchers and Fans!