Our 2nd Eyas Arrived at 3:38 a.m.
While most of us were sleeping, a very tiny eyas arrived under Beauty early this morning, around 3:38 am.
We got our first glimpse of the first half of the eggshell at 3:43 am.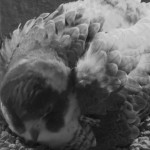 The other half popped out at 4:55 am.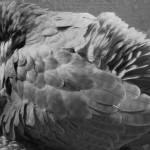 If all goes well, there will be two more hatches very soon!
Here's our first look at our little family this morning! Dot.ca got a little time to care for his two young eyases before Beauty came in to take over!