The Eyases are Named
If you've been following Rfalconcam over the years, you'll know that the eyases normally receive their names when they are banded. However, banding by the New York State Department of Environmental Conservation could not take place this year due to the COVID-19 pandemic. Without the colored bands to identify each eyas, arbitrarily naming them would lead to considerable confusion.
Now that the eyases are no longer white fluffballs, we can see the differences in their facial markings that allow us to tell them apart.
An additional complication in the naming process arose when we lost one of the eyases in May. We were already actively seeking four names at the time:
two longtime Fledge Watch volunteers were each asked to name an eyas
a school classroom was asked to name one
a naming contest was open to our worldwide community of followers
With only three eyases and four names, we had to find a way to politely reject one of them. This problem was quickly solved when both of our volunteers graciously bowed out, but that left us with only two names for three eyases!
Given the circumstances, we decided that the best course of action would be to use the 2nd-place name in the naming contest. That name was Hope.
So, without further ado, here are the 2020 eyasas.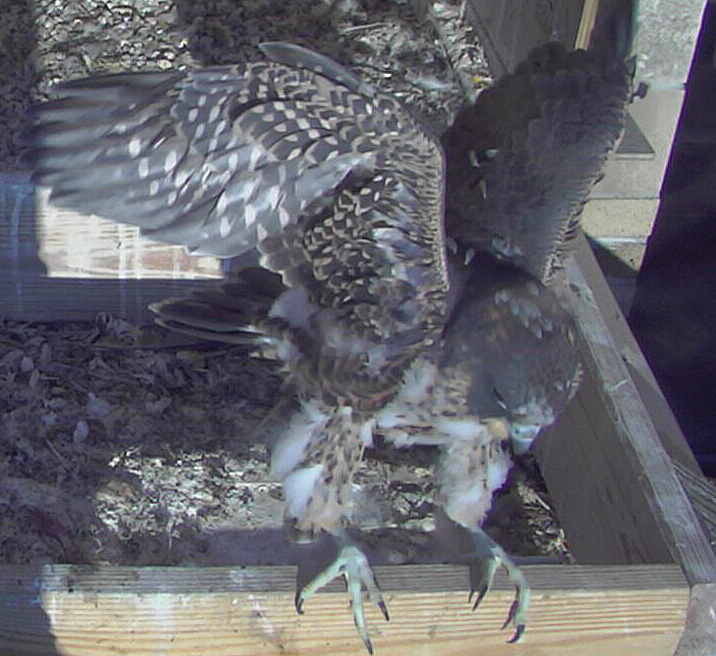 Roc (male) – The winning entry in the naming contest was submitted by John Hoffman of Honeoye Falls, New York.
Roc's name is not just a play on his city of birth. The Roc is an enormous legendary bird of prey in the Middle Eastern tradition. The book One Thousand And One (Arabian) Nights includes tales about the Roc. Marco Polo also reported on the legendary bird.
Roc's smaller size, "blue" feet, and almost solid dark head distinguish him from his sisters.
Hope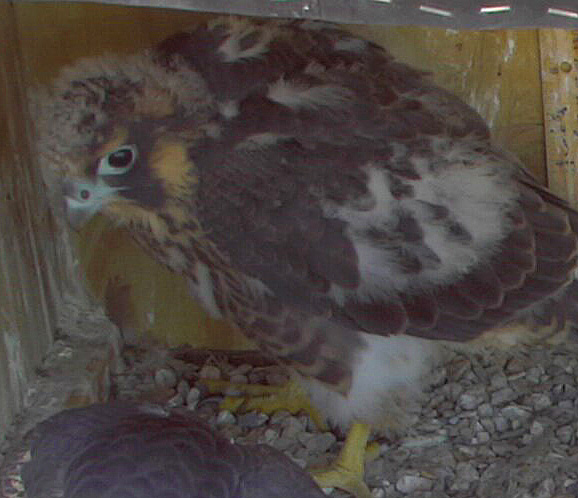 Hope (female) – The 2nd place entry in the naming contest was submitted by Ethan Fernaays of Ontario, New York; Gayle Burroughs of Rochester, New York; Heidy May of Rochester, New York; Kevin Beebe of Spencerport, New York; and Susan Kowal of Batavia, New York.
Hope is named for a brighter and better future. It is something we need, and it's understood by all. New life represents hope.
Hope has yellow feet and a light-colored head. The large light areas behind her malar stripes go almost to her eyes
γεράκι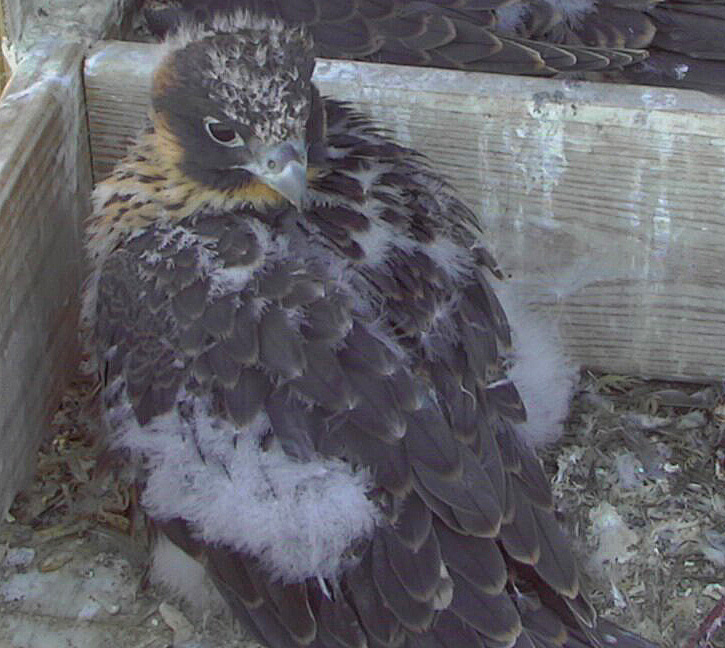 γεράκι (Geráki in the Latin alphabet, female) was named by students at Algonquin Middle School in Averill Park, New York.
γεράκι is an ancient Greek word for falcon. If you're wondering how it's pronounced, you're not alone. Here are two pronunciations: 1 and 2.
γεράκι also has yellow feet like her sister, but her head is darker with smaller light patches behind her malar stripes.
A big thanks goes out to Eileen Karle for helping us spot the differences between the eyases. Plus a very special thanks to our Rochester Falcon Watchers! Soon we'll be gathered again to watch over the young fledglings as they take their first flights. If you're able to help out with the fledge watch, please let us know. We could sure use your help!