Offspring Update: Freedom and Rhea Mae
Courtesy of Rochester Falconcam team member Carol Phillips comes this dispatch from Doug, one of Freedom's "caretakers" at his nest site in Port Colborne, Ontario Canada:
I just thought you would like to know that Freedom & his new mate [Millie] have 2 eggs in the scrape! They were laid on the 7th & 9th as best we can tell. We have our fingers crossed that they will in fact be viable. Mom & Dad are tending nicely to the eggs…..Doug
You may recall that we recently reported the news of a new mate for Freedom. It is unusual, though not impossible, for a first year female to lay viable eggs, so we'll be eagerly awaiting further news from the Port Colborne nest site.
---
Meanwhile,
Linda Woods
of the
Canadian Peregrine Foundation
sends this fantastic image of Rhea Mae as she settles down to brood her four eggs.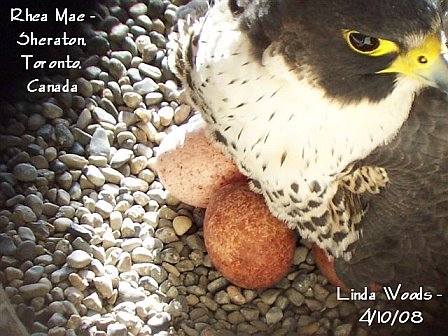 Thanks to Carol, Linda and Doug for the updates!
-Jess