Brooding and Turning the Eggs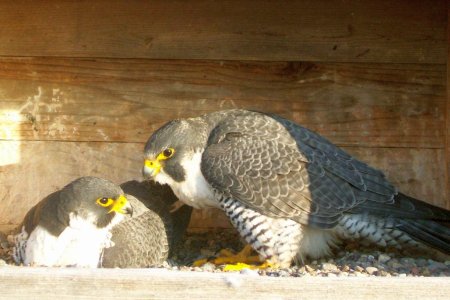 Brooding appears to be well under way now. Since April 5, Mariah and Kaver have been sitting on the eggs almost full time. Unless Mariah has another "106 hour egg" waiting in the wings it seems that we have another 5-egg clutch. Based on what we're seeing, we think hatching should take place sometime around Mother's Day, a most appropriate time!
Last year we talked about incubation, so now is probably a good time to go back and read that article if you've forgotten about the process. In that article we mentioned the fact that Mariah and Kaver have to turn the eggs so that they get evenly heated. This is very important for proper development of the growing eyas. The pictures at the left demonstrate how the falcons turn the eggs. It's a delicate process that Mariah and Kaver approach with a gentleness and dexterity that can be surprising to witness.
Sometimes we hear from viewers who think they've seen an egg with a crack in it. The mottled pattern of the eggs, tricks of light in the nest box, and the image quality from the cameras can all contribute to what look like cracked eggs sometimes. Here are a couple of things to keep in mind if you think you see a crack in the egg. First, Mariah and Kaver have never accidentally cracked an egg as far as we know, so while it's possible, they're usually pretty good about protecting the eggs as they turn and brood them. Second, hatching begins with a hole being poked in the egg by the emerging eyas. The inside of a falcon's egg is white, so if you think you see a crack in the egg, look for white behind it. Of course we'll keep a sharp eye on the eggs and the falcons, and we'll bring you any news as soon as we learn of it.
-Jess