Lily the Stowaway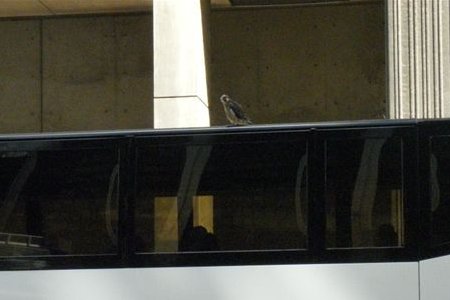 Photo courtesy of Canadian Peregrine Foundation
From Linda Woods comes word of a little adventure for Lily, one of Rhea Mae's daughters who recently fledged at the Sheraton Centre in downtown Toronto, Ontario Canada. Apparently Lily thought it would be fun to take a bus trip, as Linda reports…
At around 9:00 a.m. Lily took off from her window sill at the Keg area and headed east through the pedestrian court. Knowing that's short flight, I found her on the ground, but there was lots of open space and she immediately took off a second time flying low, heading north and towards the Richmond St. Her flight was low and flew just over the skylights of the court area.

I was thinking she may do the "bat thing on the wall of the Sheraton, she instead landed on the roof of a High- way Coach. I immediately found the driver as he was boarding passengers and told him of his stow-away.

At first they driver was not concerned, and others did not understand the situation, but after informing them of our young birds and showing them Little Lily, they immediately gave me their full support.
Read all of the exciting story and see more photos at the Sheraton Centre observation page on the Canadian Peregrine Foundation website. It's wonderful that Rhea Mae's fledglings and all of the other falcons in Toronto have such caring people looking out for them!
-Jess