Gala Wrap-up, Closing the Falconcam Cameras & Site Updates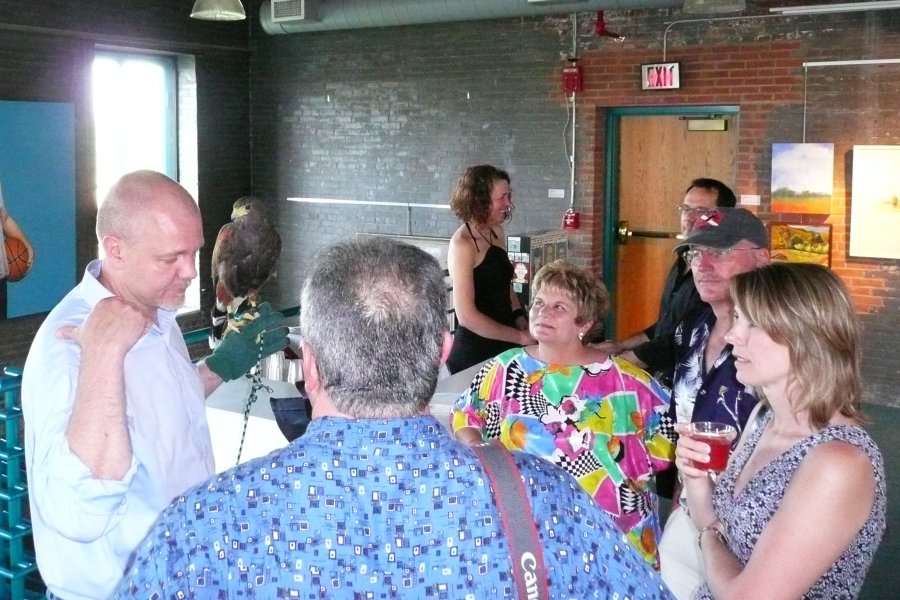 The opening night Gala for the Rochester Falcons art show at the High Falls Art Gallery was a terrific success! Our many guests included fans of Mariah and Kaver from around the country, as well as New York State Senator Joe Robach. We also had a couple of very special guests– Falconer and raptor artist Al Jordan joined us with Kai, his Harris Hawk!
After a wonderful 2008 nesting season we've seen all five of this year's eyases– Seneca, Diamante, Quest, Zephyr and Susan B– take to the skies of Rochester and fledge successfully. Our computer servers have captured and stored many thousands of images, and space is getting short. Since the falcons have largely left the nest box, and we are preparing to transition the camera equipment and nest box, we'll be turning off the Rochester Falconcam's cameras on Monday, July 7th. We'll continue to bring you information from our on-scene volunteer watchers at the FalconWatch Blog throughout the summer. And of course, we'll keep you up to date on all the news here at Imprints.
The Falconcam site will remain active throughout the year so that we can bring you news of Quest's travels via her solar-powered backpack transmitter. We've been informed by the satellite monitoring agency that her signals are being received, and we're preparing the website so that we can show you where she goes. We'll begin posting updates for Quest in a few weeks, as soon as she leaves the area. Look for updates to occur at intervals of roughly a week.
Our nest box relocation committee is already hard at work, contacting local property owners and making initial surveys for possible nest sites. We'll be working with the project leaders for the renovations at the Kodak tower on the actual date that we'll take down the nest box. We plan to reinstall the "Kodak" box at one of the relocation sites, and to install several others as well. We'll keep everyone updated on the progress of this important work throughout the coming months.
We're very excited about some new Rochester Falconcam merchandise that we'll be showcasing at our new online store. Look for more news about that soon. We'll also be announcing some upcoming opportunities for our viewers and fans to contribute to the story of Mariah and Kaver so stay tuned!
-Jess