After the "Season", and a Nest Box Relocation Update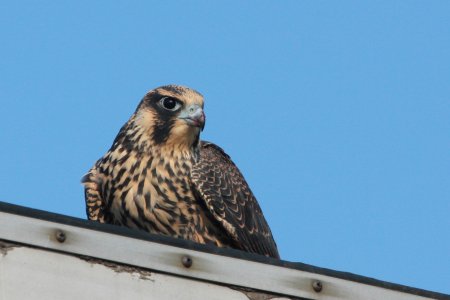 Hopefully everyone has been following the fledglings' antics at our FalconWatch blog. Our on-site team of watchers have provided over fifty updates so far. There are still a couple of weeks to go before the young Peregrines start moving away from the Rochester area, so keep checking the FalconWatch blog for more news in the coming days.
Our falcon relocation experts, the DEC's Mike Allen and Barbara Loucks believe that our chances for a successful relocation are quite high, provided that we install a nest box in a location that's within a few blocks of the current site, and that the location is one that is already familiar to the falcons. Interestingly, it doesn't appear that we'll need to install a lot of nest boxes– one or two boxes should be sufficient. A few Falconcam fans have made some independent inquiries and they've received the same information.
The Rochester Falconcam's Nest Box Relocation Team has identified a few sites where we can place nest boxes. Led by Barbara Loucks, head biologist and manager of the statewide avian programs at the New York DEC's Endangered Species Unit, the plan is now to install a small number of nest boxes at locations that appear to be well-suited as potential nesting sites. We're currently working with property owners in the area to obtain the permission needed to install the nest boxes (and hopefully the Rochester Falconcam cameras too!).
Though we've turned off the Rochester Falconcam's cameras, work has not yet begun on the repairs at the Kodak tower, and the nest box is still in place. We plan to remove this nest box and re-install it at the site that is likely to be accepted by Mariah and Kaver. Other nest boxes will be placed in a locations that also meets the requirements of the DEC. As the work progresses we'll keep you updated.
-Jess