And The Quest Stories Keep Coming…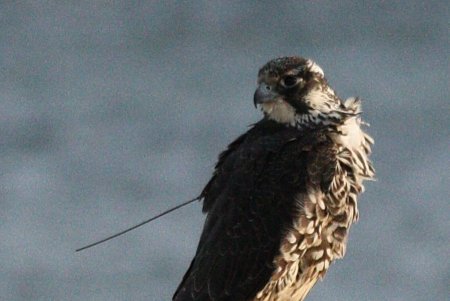 The birding populace on Nantucket certainly seem to have taken Quest into their hearts. The latest sighting comes from Edie Ray, who had a close encounter with Quest on the 25th of January. She sent along some pictures to go with her engaging story too. You can view the pictures by clicking the pictures and highlighted links below. Edie writes:
Late in the afternoon on [January 25, 2009] I pulled into the parking area at Low Beach in 'Sconset on the Eastern edge of Nantucket Island, Ma. As I exited my car and began pulling on numerous layers of clothing (it was COLD), I noticed a woman with several dogs walking up the trail from the beach. Just beyond her and seemingly undisturbed by this activity I observed a Peregrine Falcon sitting on a sign on the beach. "Must be Quest", I thought to myself.

I asked the dog-walker as she hurried past if she had seen the Peregrine and would she like a closer look using my binos. She replied that she had indeed seen the bird and had wondered what "that funny stick was on it's back". Aha, Quest for sure…

Now on a quest for Quest I headed to the beach and managed a pic or two of her sitting on the sand. As I watched I could see her looking at a flock of Bufflehead ducks feeding just offshore. All of a sudden she took flight and headed out over the startled ducks. I then lost sight of her over the water.

Turning my attention to gulls I amused myself for about forty minutes counting and admiring the many Iceland and Lesser Black-backed Gulls feeding just North along the beach from Quest's take off point. As I left the gulls and began to head back along the beach to the path I once again saw Quest. She now was sitting on a "shipwreck" looking piece of flotsam and jetsam and looking very photogenic indeed.

Not wanting to disturb her I approached slowly, pausing at times to let her get accustomed to my presence. At one point she lifted her tail and produced a "nice poop", good evidence of her success in hunting I think! With her "consent" and a telephoto lens I was then able to get a number of nice shots of her basking in the late afternoon sun.

Leaving Quest I headed up the path to my car. While greeting some arriving birders in the parking lot one of them (Vern Laux) yelled "Peregrines!" I turned just in time to grab my camera and get a pic or two of Quest embarking on an aerial dogfight with a smaller Peregrine right over the beach. Even at a distance we could her vocalizing!

After watching this amazing display until both birds were out of sight I headed for home having had a most memorable encounter with a true master of flight. All in all an afternoon I won't soon forget!
We're so grateful to Edie and all of Quest's fans on Nantucket for keeping us informed about her, and especially for sending along all of the terrific pictures! Quest looks great, and she sure seems to be having a good time on her island winter home.
-Jess