Mariah's Treatment Begins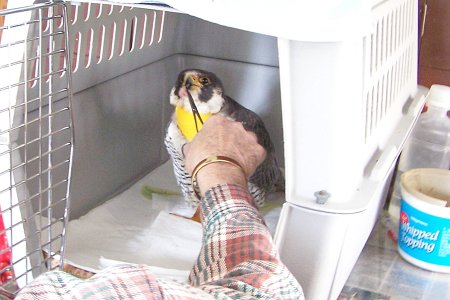 Photo courtesy of Carol Phillips
Updated 14 April!
Carol P, Mariah's own Florence Nightingale, reports that she spent several hours at the rehab center with Mariah this afternoon. She was examined by vets this morning, and they found three wounds: The most serious is a deep chest wound. Fortunately, no internal organs appear to have been damaged. She also has a wound on her back that is 3-4 days old. This is consistent with watchers' observations, and lends weight to our working theory that the territory battle began sometime on Friday afternoon. The third wound is a laceration on her wing which needs further examination. She also has a minor case of bumblefoot. Carol was able to assist with the treatment for that, applying antibiotic ointment to her feet.
Mariah was standing on her own today and she ate a several bites of quail soaked in Pedialite. This is a definite improvement. Even better, Carol reports that Mariah was tracking their movements, something she wasn't doing yesterday. The picture above shows the rehabilitation specialist feeding quail to her using a pair of foreceps. She's undergoing antibiotic therapy and she'll likely need surgery to repair her wounds. She's not out of the woods yet, though. The vets are concerned that her feces are black and runny (a possible sign of internal bleeding). The news is certainly a mixed bag, but there are hopeful signs. All in all, Mariah's proving once again what a tough bird she is.
UPDATE: The DEC has been in contact with Mariah's local caregivers, and they have decided to move her to Syracuse tomorrow morning for further evaluation and treatment. The DEC works with a private veterinary doctor in Syracuse who has a lot of experience treating falcons, and they feel that this move will allow Mariah to get the best possible care. We're extremely grateful for their efforts and for those of the local rehab specialist and veterinarian who took time from their holidays to provide the early care and stabilization that Mariah needed. Mike Allen reports that his ultimate goal is to return Mariah to the wild, though this obviously raises some questions which will have to be answered as we get further along in Mariah's treatment and recovery.