Who Is The New Tiercel?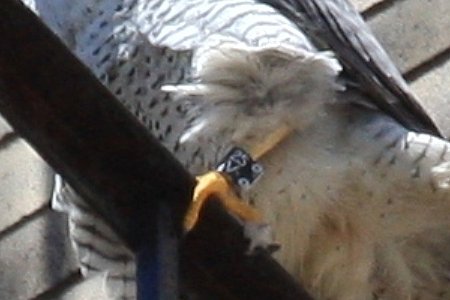 Photo Courtesy of Joyce Miller
UPDATED! Read below
Well, we don't know if he has a name, but thanks to watcher Joyce Miller we've got a positive read on his ID band. Joyce took this picture (click the image above to view the full version) on the 12th of April when the tiercel perched on the fire escape of a nearby building.
Yesterday, Jim Pisello shot this image of the tiercel taking off from the Midtown Plaza Tower: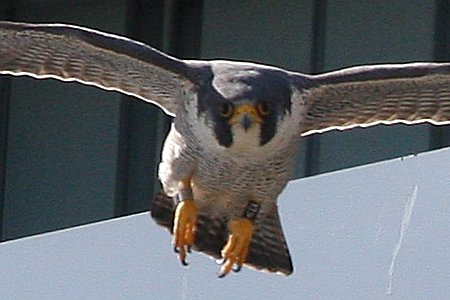 The band isn't quite as clear, but it's still a good look.
Black bands are often used in Canada (though they are also used in the US on occasion), so we've sent a request our Canadian contacts to see if we can learn his Identity.
Sharp-eyed viewers will note that this tiercel's band ID, 25 over V, is close to the ID band worn by Tybropa-Cree, the tiercel who was in Rochester earlier this year and unfortunately was killed in an automobile collision. Tybropa-Cree was hatched in 2007 and fledged in Scarborough Ontario. Since 25/V comes after 15/V, it might be reasonable to assume that this tiercel was banded sometime after Tybropa-Cree. His adult plumage means that he's at least 2 years old, so a hatching date of 2007 fits with our observations. In any event, it's only a matter of time before we learn more about Rochester's newest tiercel. As soon as we find out more we'll let you know.
UPDATE
In a turn both strange and wonderful we've received more information about our new tiercel. It comes from Doug Garbutt, one of our friends in Port Colborne, who have been the caretakers of Freedom and his mate since 2005. Doug wrote to Rochester Falconcam member Carol P with this news:
Hi Carol

Looks like you have Freedom's son "Archer" in Rochester. The MNR [Canadian Ministry of Natural Resources] banded solid black 25 over V June 10 2006 here in Port Colborne. Gotta run I'll give more info soon as I can.

Doug
Welcome Archer!
Everyone here at the Rochester Falconcam is thrilled beyond words. Of course you'll all remember that Freedom is Mariah and Kaver's son from 2002, the first year that Mariah and Kaver were paired. Imagine, after all the turmoil we've had this year, that it is Mariah and Kaver's own grandson who has taken residence! So even though Kaver is gone and Mariah's return uncertain, we can take comfort in knowing that their successor carries on their legacy!
Next to having Mariah and Kaver back, It's hard to imagine much better news than this. Many thanks to Doug, Joyce, Jim, Carol and all the other watchers who've been out trying to ID our Archer!
-Jess (who's still doing a happy dance over the news)