A Better Look at Beauty & Archer at Times Square
We're making progress but we're still not ready to connect the Times Square cameras to the site yet. One thing we did manage to do though is to pull the original images of Archer and Beauty at the nest box that we printed in our post from the 12th. Here's the first of them.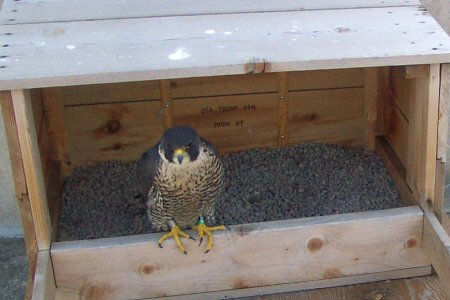 One thing we can say immediately is that we got the ID wrong in our earlier picture. The photo above clearly shows the black and green leg band, which means this is Beauty, not Archer as we had said. Her breast shows the heavy barring and deep salmon tint to her plumage that our on-scene watchers have also noted.
Here's the next picture…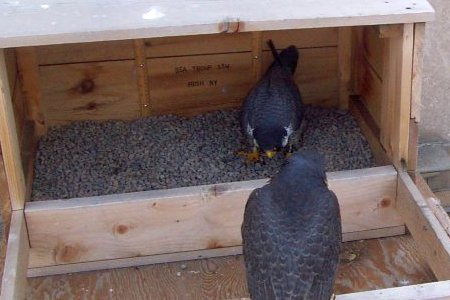 The bowing behavior that typifies courtship and pair bonding between falcons is on display in this picture. You can also see the area surrounding the nest box, including the ramp on the right that can be used by eyases or fledglings to climb back up to the nest box if one were ever to fall out. The door allowing access to the nest box area is also visible on the right. The nest box is about seven feet (2.2m) above the floor of this narrow area, so if we ever do get an opportunity to band eyases here we're going to need a ladder to get up to the box. It's not visible in this picture, but this box has been modified so that the right side can be opened to allow easier access to any eyases that may call this artificial scrape home.