Celebrate Mariah & Kaver with Candy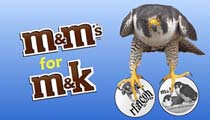 We don't think anyone would ever suggest eating the Rochester falcons. But that's just what you can do, thanks to our latest fundraising campaign!
M&Ms™ for M&K includes a gift bag of custom printed M&M candies that feature Rochester's dynamic Peregrine duo, Mariah and Kaver! Plus, there's a selection of limited-run prints showcasing the Rochester falcons and their amazing offspring. Five donation levels ensure there's one to fit every falcon fan's budget.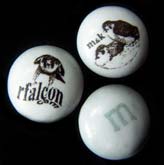 Ordering is easy! Just download and print our convenient donation form, fill it out, and return it with your check or money order in US funds to the address shown.
All the proceeds from the M&Ms for M&K program will be used to support the ongoing operations of the Rochester Falconcam program. It's a unique and delicious way to celebrate the rich legacy bequeathed to us by Mariah and Kaver. Get M&Ms™ for M&K for yourself and send some as gifts to your friends!