Quest Visiting Family at End of November?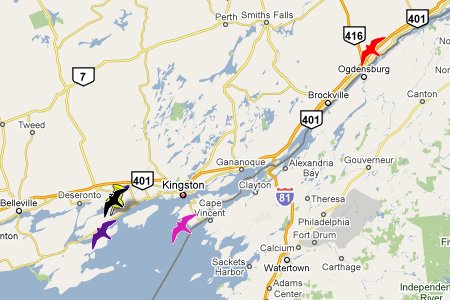 Click the map for a larger view
Just when we think Quest may have settled into a pattern she throws yet another specto subitus moment at us. With few exceptions, she's been sticking close to the Lennox power station, no doubt content to feast on the plentiful prey in the surrounding wetland and on the Lake Ontario shore. But on the final day of November, she decided to wing her way up the St. Lawrence Seaway to the town of Ogdensburg, NY. You may recall that back in April we learned that Sabrina, from Mariah and Kaver's 2006 brood, had taken residence in a nest box on the Ogdensburg-Prescott International Bridge. Two strong signals on the morning of the 30th place Quest within one mile (1.6 km) of the bridge. Could she have been paying a visit to her brother?
Did you catch that? Yep, we said brother. It's not a typo. Courtesy of June Summers comes word that the folks monitoring the nest box on the Ogdensburg-Prescott International Bridge witnessed mating between our Sabrina and the other resident female, with Sabrina in the male role. June attended a recent state-wide Audubon Society conference where she recieved the news. She also learned that Sabrina/Valiant and his mate produced one eyas this year which unfortunately did not survive. So our supposition that Sabrina is a male has been verified, and it looks like a name change is in order!