Quest Active Despite Cold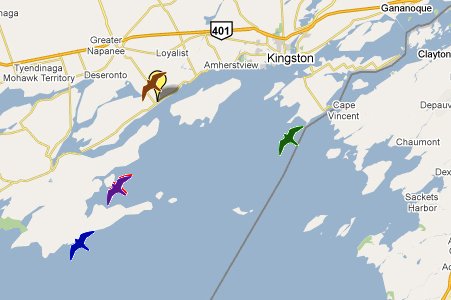 The New Year's cold snap hasn't stopped Quest from bouncing around southern Ontario provice in Canada. We missed a couple of days' worth of data just after the beginning of the year, but since then the information has returned to regular nightly updates. We've been fortunate to get quite a few readings that include data from the transmitter's temperature sensor. These show that Quest is keeping pretty active and thus relatively warm despite bitter arctic temperatures and snow.
Locations over the past few days indicate that she may have found a perching spot just east of Route 13 near the Prince Edward Point National Wildlife Area. The Prince Edward Point Bird Observatory is close by, so it's possible that Quest could be within view of some trained observers. The Point lies on one of the major Great Lakes bird migration routes, so it's no surprise that Quest may have staked out a temporary hunting territory on the northern bluffs there.