Beauty Returns to Times Square With A Friend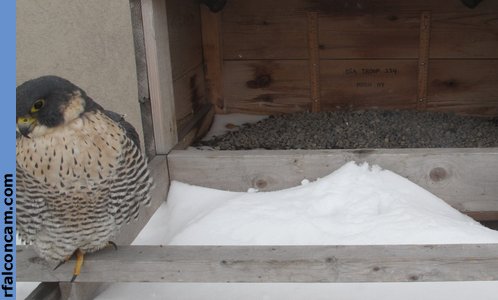 Beauty's been spotted around the downtown area all winter, but today is the first time this year that we've seen her on the Rochester Falconcam's cameras. As expected, our new Main Camera got a great picture of her. This is about the time of year we'd expect to see the falcons begin to make their return to the nest box, so everything seems to be on track. Or does it?
Beauty had a friend with her today. Here's a shot of him at the left, next to the Main Cam, munching on some prey. Beauty is looking on from the perch of the nest box on the right.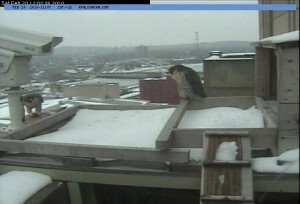 Looks like Archer right? Only, it's not. This guy doesn't have any leg bands! In this picture you can see his left leg, and there's clearly no band. Archer had bands on both legs, so this can't be him.
Beauty seemed comfortable with this newcomer. Our Falconcam Archive Viewer (new for 2010!) shows her waiting patiently while the tiercel devoured his brunch. They both left the nest box shortly afterward. So, as the 2010 Falconcam season gets under way, we may have a new drama brewing here in Rochester. Where's Archer? Is he just late returning home, or is this new tiercel going to be Beauty's new mate? We usually get a healthy dose of drama at the Rochester Falconcam, and it looks like 2010 is not going to disappoint in that department!