A Welcome Arrival Signals Spring's Return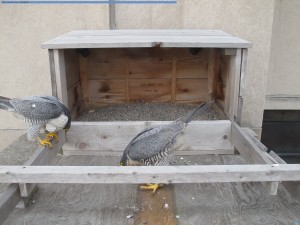 If you've been keeping an eye on the Rochester Falconcam's cameras, the FalconWatch blog or our recently enhanced Forums (all easily available thanks to our new and improved menu bar at the top of the page), you'd know that while Beauty has been spotted throughout the winter, we'd had no sign of Archer. A few weeks ago Beauty was seen at the nest box in the company of another male, but he left the area after only a short stay, and the best guess from our volunteer watchers is that the tiercel was probably one half of a pair that was just passing through town.
Truth be told, we were all starting to wonder how 2010 was going to shake out. It's getting pretty late, and in years gone by we'd have expected courtship and even mating activity to be well under way. So I'm sure you'll be able to appreciate the excitement we're all feeling here at the Rochester Falconcam to see that on this inuaugural day of Spring, Archer has returned home!
The picture at the top of the page was captured by our super high-resolution Main Camera, another brand new feature that we're happy to bring you. That's Beauty in the middle, bowing. And on the left is Archer, his 25/V ID band clearly visible.
His return is fantastic news! We're hopeful that this year will prove to be more bountiful than Beauty and Archer's rookie season in 2009. Of course nothing is certain (Specto Subitus, as we like to say), but seeing Rochester's resident Peregrines back together is a wonderful way to welcome Spring back to Western New York!
We have watchers on the ground today so keep your eyes on the FalconWatch Blog for all the latest updates.