Morning watch 1-28-14
By Rochester Falcon Watcher MAK
Downright bone chilling cold has returned to Rochester as it was 0 degrees (F) -18 (C) as I began this mornings watch with a wind chill factor of -18 (F)  and bright sunshine
I was pleasantly surprised to spot Beauty eating on the northeast corner of Crossroads after checking the east side as I was on the Broad St. Bridge at 7:24am. The best place to view her was from Graves St at Main St. next to Aqueduct Park and it had to be done thru the middle of a snowflake light on a pole on Main St. lol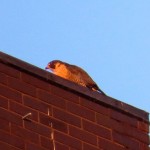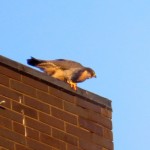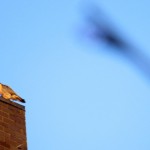 Click on my pics to view full version
The Beautyful one spent a half hour eating and when she was finished she did a little feaking (cleaning her beak off by wiping on ledge), content with her meal she seemed to smile and then she pooped.
Beauty then waved hi to me, gave me the A-ok sign and flew off to the northeast at 7:55am.
I suspected that Beauty had gone over to the Kodak Office tower so I shot down State St. and found her on her favorite early morning spot lately which is the west side of the south side arch. This is the first time I've seen Beauty with food in her crop since I returned from my Arkansas trip last Tuesday-this made me very happy!

So I left our downtown female Peregrine Falcon to check the Brighton Site (BS) after about 15 minutes passed as I knew she would be resting and digesting her breakfast. I arrived at BS Around 8:30am finding Pigott on the southeast extension perched on a top row east facing window with her back to me. She was very sleepy and had a fascinator stuck to her forehead making her look a little goofy.
She did some preening and looking around her surroundings and still the fascinator stayed in place.
Miss Pigott foofed herself up after a good rouse (shaking her body feathers) to keep warm and just before I left her at 9:05am she watched a plane fly over the building.
When I returned to downtown I had a hard time finding a falcon and as I was stopped on the BSB there were pigeons lining the Blue Cross Arena letters telling me there wasn't a falcon near by. After 2 unsuccessful trips around the city I decided to check the elevator shaft-from the Radisson Hotel driveway I was able to spot the back of a falcon which was blending in very well on the south side ledge. I believe it was Beauty but can't say for sure.
It was 10am and time to ease on down the road ending my watch with a smile!

Click on the links below to see our girls from this morning