Thursday Late Afternoon/Evening Falcon Watch – Beauty Chases the Gorge Osprey North Down River – 8/22/13
By Rochester Falcon Watcher Carol P.
Thought I'd get an early start today.  When I left work, it had just stopped raining, which brought the temperatures down a bit, but the humidity rose.  There were still dark clouds all around, so I wanted to make sure I got some Watch time in before it rained again.  It never did.
I arrived downtown a little before 4 pm.  About 20 minutes after I arrived, I finally found an adult falcon on the south side of OCSR near the south corner.  Definitely and adult, but the falcon was facing the building, so I couldn't ID it.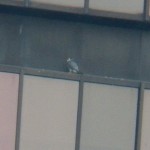 *
*
*
*
*
I decided to continue my search, to see if there were any other falcons hanging out downtown.  After parking my car at the east end of the pedestrian bridge, I walked out onto the bridge to see if any falcons might be in the gorge.  No falcons, but there was lots and lots of  High Falls wild life out and about, including several Cormorants, ducks, Great Blue Herons, one deer, 2 Kingfishers chasing each other and all kinds of critters.
*
*
*
*
An Osprey vocalized, flying near the east gorge wall.  It flew towards the Falcon Sucking Tree, but veered off and continued south.  She gained altitude and headed downtown, following the river.  There were many gulls flying over the river, south of the Broad St Bridge (BSB) and she joined them, until I could no longer see her.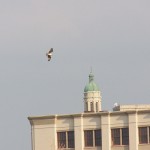 *
*
*
*
*
At 5:40, about 15 mins later, the Osprey returned from the south and she wasn't alone.  Hot on her tail was a female Peregrine Falcon we call Beauty.  I could see her missing tail feathers.  Beauty chased the Osprey under the pedestrian bridge and continued to chase her further north down the river.  The Osprey continue north and Beauty turned back and flew over the BeeBee Station, heading south.  She eventually landed on the SE corner of the Frontier Communication Tower (FCT) below the platform.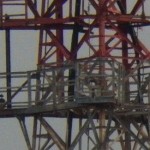 *
*
*
*
*
By the time I got over to FCT to see if I could find Beauty, she was gone.  Kathy O had arrived just before me and did not see her leave.  That's when we got a tweet from Rfalconcam watcher Donna that Beauty was at the nest box and then another one from Ei, saying that Beauty was now on Cam 4 at the nest box.  Thanks for the heads up gals!
Kathy O and I had arrived on Broad St at about 6:10 pm, in time to see her leave the nest box and go up to Cam 4.  By 6:22 pm, she took off flying northeast.
*
*
*
*
Now we had no falcons in view again.  I had tweeted out that Kathy and I were signing off at about 6:40 pm, but of course we decided to check downtown one more time.  lol  When we checked the FCT, we spotted a Falcon on the Kodak Tower launch pad, SE corner.  That's where we headed.  It was definitely an adult.  Probably Beauty, but I can't say for sure.  She stooped on a pigeon flying near the KTower on the south side and hit it.  The pigeon flew/fell to one of the lower buildings and the Falcon again landed on the SE corner of the launchpad.  At 7:30 pm, it was time to go.
*
*
*
*
*
*
*
*
I didn't see any juvies, but watching Beauty chase the Osprey out of her territory was awesome to see.  Really wish I could have gotten some video of that.  It happened too quickly and absolutely no vocalizing by either Beauty or the Osprey to alert me that they were coming.  lol
I'll leave you with two more pics I took on my Watch this evening.  There were two ducks that had synchronized bottoms up maneuvers down perfectly. hahaha!  Plus X marks the spot above the Times Square Bldg.  Goodnight everyone!