Morning watch 8-28-13
By Rochester Falcon Watcher MAK
This mornings weather was pretty much like yesterday-humid,dark,overcast with the same temperature of 68 (F) 20 (C).  A little fog but not dense like yesterday.
I found Beauty on the southeast corner of HSBC in hunt mode for sure. She stooped to the east and flew back to the same spot then 5 minutes later she stooped to the southeast as I was watching from Chestnut St. in front of Manhattan Square Park. Then from right below her on Court St.
The Beautyful one returned and switched to the front of HSBC on the railing of the southwest corner.  Soon after taking off to the southeast again.
Beauty came back and landed on the railing of the southeast corner. She stayed there for the next 15 minutes and just before 7am she flew northeast and that would be the last I saw of her on my watch.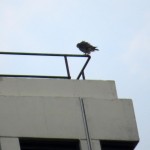 As I faced the east I couldn't help but notice the fantastic sunrise happening before me.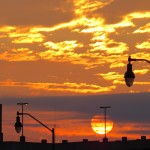 Don't forget to click on my pics for the full version
15 minutes later as I searched for Beauty I spotted a falcon on the north corner top ibeam of OCSR from the Andrews St. Bridge. I was very excited since this is a favorite spot of Dot.Ca (DC) and I haven't seen him in 2 or 3 days. I drove to Bragdon St. for a closer view so I could ID him. He didn't give me much time as I got one pic before he was off to the northeast. I could barely make out the heart shape on the side of his face but the white chest confirmed it for me.
Due to poor light conditions today, my pics are not very clear. After a trip around downtown with no sign of a PEFA I left for the Brighton Site (BS). Pigott was on the west end of the south side vent all scrunched down and poofed out.
Miss Pigott started preening and at one point seemed like she would take off but she faked me out and went back to preening.
I shared space with her for the next half hour and then she flew off for real heading east and she didn't return.
I waited a bit before heading back downtown. I did a search of the city but couldn't find any falcons so I ended my watch at 8:45am. I saw all 3 current resident Rochester Peregrine Falcons on my watch this morning so I had good reason to smile as I headed out! 🙂
Just one video link below for you to click and view today