Morning watch 4-2-11
By Rochester falcon watcher MAK
I want to start this report with a big congratulations to Beauty and Archer on their first of many (I hope) eggs last night at about 7:30pm. I thought it would be a bit slow on my watch this morning but I was wrong about that!  I arrived about 6:40am to find a falcon on the Wilder building green strip. It was off before I could get the truck in park! Flying over to the Times Square building and landing under the southeast wing it looked like Beauty to me. She then flew down to the nestbox and went in to check on her new egg! 20 minutes later Archer showed up landing on the side of the nestbox behind camera 4 very briefly and then flying over to the Wilder building fire escape.
Archer then flew over to circle above the Times Square building a few times before taking off to chase a crow out of the area. Beauty had taken off at the same time and eventually landed on Widows Walk.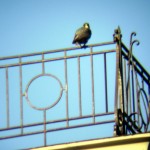 Archer returned to Times Square landing under the northeast wing only to take off quickly, returning a few minutes later with prey in his talons. While he was off hunting Beauty flew to the nestbox and when Archer landed under the northeast wing with his meal she watched him intently as he prepared and ate the WHOLE thing himself! Certainly not good behavior for a future dad.
Beauty flew up to him after watching and waiting patiently only to find it all gone. Archer looked at her and quickly flew out of there before she could scold him. After looking around for scraps she flew down to land on the main cam for a few minutes. Archer came back flying above Beauty and suddenly they both took off after a hawk that was entering their air space. I lost them behind buildings so I have no idea what happened to the intruder. Beauty returned kakking up a storm and landing next to the main camera,while Archer flew over to the jail tower and parked himself for a few minutes. He left there and flew to land next to the main camera.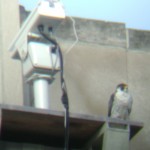 This is when I decided to end my watch and go home for a breakfast break and put my report together.  Here's a couple poor pics of Beauty by the nestbox preening and one of Archer under the northeast wing. 🙂