Morning watch 10-29-14
By Rochester Falcon Watcher MAK
The morning was dark and overcast with a temperature of 51 (F) 10 (C)
Click on the pics to see the full version
I saw our Seneca Towers falcons for the first time in 4 days this morning. YAY When I first looked I saw 99 on the west side railing. I grabbed my camera and he was gone when I looked back up. He returned and a few minutes later Billie arrived landing on the railing to his left. They both feaked so I believe they had just eaten up on the roof. His crop was full-hers was not.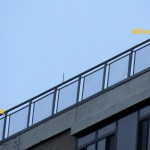 Billie and 99 hung out just a few minutes before flying southeast at 7:47am with Buffalo Billie leaving first followed by 99.
I left for downtown finding Beauty under the northeast wing and Dot.Ca (DC) above her on the northwest wing ring of Times Square (TSB).  I parked on Basin St. in the hole by the Wilder building to observe. They flew off  to the north a few minutes later.

I also went north to look for them and found DC on the northeast corner of the Frontier Communications Tower platform from State and Church St. I drove to the City Hall parking lot to check him out.

DC was just looking around for a few minutes then he flew west at 8:39am
I made my way back to the hole as I spotted Beauty on the base of Mercury with food. She was plucking away at the feathers.
Suddenly, she stopped eating-I heard vocalizing and in a blur, DC flew in, and as Beauty took off with her food, he tried to grab it from her.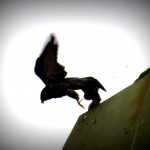 He proceeded to follow her over to the Irving Place building where she came to rest on a chimney and DC landed on the peaked roof above her.
I watched them until 9:30am as Beauty ate and DC looked down at her in between watching the area.
I would have liked to stay to see if DC got any of the Beautyful one's leftovers (I'm sure he did) but I had to be somewhere. I ended my watch smiling after seeing all 4 Rochester Peregrine Falcons! 🙂
Click on the links below to see todays videos
http://youtu.be/s4UbzPsUn1s