Morning Falcon Watch/winter arrives 2-11-16
By Rochester Falcon Watcher MAK
It was snowing and blowing throughout my watch except in Brighton the sun was shining. Typical lake snow event. When I started the temperature was 13 (F) -11 (C) and when I ended it was 10 (F) Winter has arrived in Rochester,NY
It was no surprise to me that I didn't see Billie or Seth at Seneca Towers-I'm sure they were hunkered down wherever they go when the weather is not very nice.
I figured at least Dot.ca (DC) would be up in the OCSR elevator shaft as he always goes up there in bad weather. Well, I found two falcons up there-one on each side but I could not tell who was who as my camera had trouble focusing through the blowing snow. I could see them with my binoculars much better and if you watch my snippet video you can see them clearer yet.
I stopped on the Broad St. bridge to take a pic of the large pigeon population that was huddled and piled on each other along the east (river) side of Thomson Reuters to keep warm.
I decided to go check the Brighton site and when I got there the sun was shining bright with blue skies. The male was there on the top window where the east and southeast extensions meet-same place he was yesterday when Kathy and I saw him. He's a real cutie!
This tiercel was closing one eyelid at a time-not sure if he was half a sleep or just protecting his eye from the cold wind that was blowing as the wind chill was below zero this morning. Larry pulled in for a minuteto check things out on his way to work then left. I headed to Medley Centre and about a mile from the BS location I lake effect snow again and it only came down harder the farther north I went.
There was no birds of any kind at the mall and the snow was falling moderately.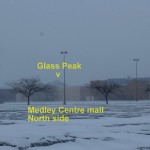 When I got home at 9:44am I didn't see any falcons on Seneca Towers. Keep smiling everyone! 🙂
Click on the link below to see today's short snippet video