Morning Falcon Watch/ frozen tundra out there 2-13-16
By Rochester Falcon Watcher MAK
Let's face it folks-cold is cold, as it was -1 (F) -18 (C) when I started at Seneca Towers with very windy conditions and light snow being blown around. Downtown was -2 (F) -19(C)  The Brighton site came in at -3 (F) -19 (C) and the Medley Centre in Irondequoit was -4 (F) -20 (C)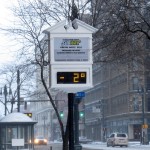 Needless to say I did my watch as quick as I could to get back home in my toasty apartment at Seneca Towers. Unfortunately, I didn't see Billie or Seth this morning-I hope they have a place they go to get out of the harsh elements for the most part.
When I arrived downtown I went straight over to Bragdon Place to check the OCSR elevator shaft south side. Nobody there but I could just make out the top of Beauty on the top I-beam southeast side of OCSR. I drove around to the Radisson Hotel driveway by Main St. where I could see her better and check the north side ledge of the elevator shaft. She was gone when I got there and I could see Dot.ca (DC) on the north side elevator ledge.
I didn't see the Beautyful one around the area so I went back over to Bragdon Place where I could barely see her on the south ledge of the elevator shaft. My camera was having a hard time focusing and just like yesterday she showed up better on my snippet video than in the pics.
Satisfied that I saw our downtown pair I headed over to the Brighton site. I spotted the male on the same top window ledge that I've seen him before on the east extension where it meets the southeast extension. The female was on the 5th window down out at the east end of the east extension.
The male was antsy-he flew out and back to the same window he had been on, then off again flying past the female this time and one of them vocalized.
I believe he wanted to get more protection from the wind for he then flew over to the southwest extension and landed on the east side of it on a top window ledge. The female was sleeping so I left to check the Medley Centre in Irondequoit but I didn't see a falcon there or at Seneca Towers when I got home at 9am. I would feel better if I had seen Billie and Seth but I'm sure they're just fine. 4 Peregrine Falcons seen was surely enough reason to smile on a brutally cold morning! 🙂
Click on the link below to see today's snippet video