Afternoon Falcon Watches – 4 Falcons Seen! 2/18 & 2/19/16
By Rochester Falcon Watcher Carol P.
Rochester, NY was hit by a snow storm on Tuesday, 2/16/16, that dumped 20+ inches of snow.
Thursday, 2/18/16
I went out for a short watch yesterday, but was unable to find Beauty or Dot.ca. Earlier in the day, the main camera at the Powers Bldg had captured Dot.ca plowing through the deep snow into the nest box. (12:57 pm).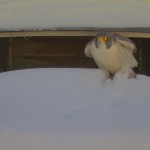 The only falcons I found were Billie and Seth at Seneca Towers on the west side railings.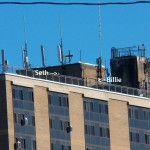 Here are a few pics I took of the Genesee River below the Broad St Bridge.
Friday, 2/19/16
Now for today's falcon watch.  It was 41 degrees (F) during my watch.  Much warmer than it has been.
I did check out the Brighton Site, but could find no falcons there.
Downtown, I found Beauty and Dot.ca on the north side of OCSR on the top IBeam.
I parked on the Andrews St Bridge where I had a good view of both falcons and the surrounding area.  If they choose to nest on the Powers Bldg, this will be one of our better locations to watch from.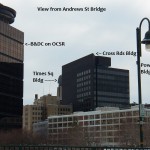 Dot.ca took off and flew over to the Powers Bldg nest box.  The cameras there did not catch his visit.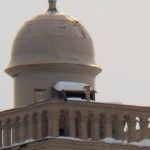 After a few moments, he flew back to OCSR and landed next to Beauty (right side).
All was peaceful and quiet downtown, so I headed over to Seneca Towers.  I found both Billie and Seth on the north end window ledge.
I also checked out Medley Ctr and Russell Station, but found no falcons at either location.  The parking lots at Medley Ctr are still a snowy mess.  Tomorrow it will be going up to 50 degrees, so a lot of this snow will start to melt!