Morning Fledge Watch 7-7-16
By Rochester Falcon Watcher MAK
It was 72 (F) 22 (C) at the start of today's watch with overcast skies
As I was sitting at my table eating a bowl of cereal this morning I heard a juvie whining-as I looked out 2 juvies flew past. I quickly finished and headed out the door. I found one juvie on the northwest corner of Seneca Towers (ST) with its back to me. No others could be found from the ground so I headed downtown.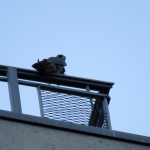 While turning onto the Court St. bridge (CSB) to join Dan I spotted 2 falcons flying near Xerox. Dan said that all four juvies had been flying around up there. A couple of them landed momentarily on both the northwest corner and the center roof antenna.
I noticed an adult on the top I-beam of OCSR by the  elevator shaft-we later decided that it was Beauty. I also checked out the river and found a duck family having a morning swim.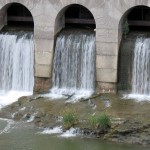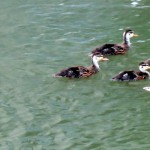 Be sure to click on the pics for full version
Suddenly we saw a juvie stoop from Xerox across the river after pigeons near Cornhill-no luck but it was a spectacular stoop!!! Carol joined the watch right after that occurred. 2 of the juvies showed up under the southwest wing of Times Square (TSB) then to Widows Walk (WW) and then they joined a third juvie on the base of Mercury. Just before Dan left at 7am everybody disappeared to the east including the Beautyful one.
Carol spotted 2 juvies on the jail tower briefly then they headed north-one of them ended up on WW. I drove to Elm St. where I found a female juvie on the northwest corner of HSBC. She flew west after a minute or so. Meanwhile, Carol had gone to the hole and found 2 juvies now on WW and one had food.
I left the east side and went to Broad St. near Plymouth Ave. to check out the juvies on WW. All four of the juvies were on and off both the lower roof and railings at different times. One of them did indeed have food as the others watched and made their attempts to get some of it.
DebbieH stopped by to chat before work and while we were talking Aria flew off WW and headed toward the Frontier Communications Tower (FCT). She went out of sight for a second and then Debbie thought she landed on the middle arm of FCT. Turns out it was a kestrel that landed on a bracket of the arm.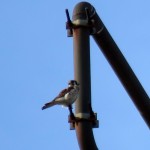 Some more shenanigans on WW by the juvies and then I joined Carol in the hole as we watched Lilac get a small package from Dot.ca (DC) under the northwest wing of TSB. She took it to WW-Aria kept her eye on the prize from next to her on the east railing. DC went to the west corner top I-beam of OCSR.
Lilac ended up taking the food down to the roof inside the railing and eventually we Aria followed and we had no visual on any juvies. I left downtown at this point and when I got to ST there was an adult PEFA on the west side railing. After cropping my pics on the computer I could see that this bird was unbanded. Coincidentally I haven't seen Billie or Seth since I came home-just the two juvies. Stay tuned!
A successful watch that produced sightings of all 6 downtown Rochester Peregrine Falcons-and you know that makes me smile! 🙂
Check out today's videos by clicking on the links below