Watcher Weekend Watch 7-9/10-16
By Rochester Falcon Watcher MAK
Temps in the 70's and low 80's with windy and partly cloudy skies on Saturday and rainy, windy, overcast conditions on Sunday.
Watchers gathered on the Court St. bridge (CSB) Saturday morning for our usual meet and greet breakfast. In attendance were Joyce,Bonnie Linda Craig Lynne Bob Eileen Zaph Dan Pat Carrie Shaky MAK Jeanne Dana Lisa Kathy Cheryl CarolP. Two new watchers joined us-Zaph and Cheryl-it was very nice to finally meet them.
Saturday featured juvies giving us some great flying displays on the east side near Xerox and Legacy Tower (LT). Landings by juvies and adults on Times Square (TSB), Widows Walk, Time Warner Communications Tower,Xerox,Legacy Tower,Powers building and jail tower while I was on watch. I didn't get a whole lot of pics as I was just trying to enjoy the whole affair. I was having a good time watching all the duck families down in the river.Here's some pics from the morning-I took no pics at night when we gathered in the hole for pizza supplied by June and the Genesee Valley Audubon Society (GVAS). Thank you-it was delish!
Be sure to click on pics to see the full version
Sunday morning the weather wasn't so pleasant but watchers still came out to catch a glimpse of our fine feathered friends. I spotted a very noisy juvie on the northwest corner of Seneca Towers (ST) before I left for downtown.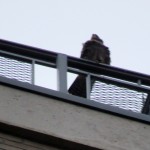 I met up with Eileen on the Court St. Bridge -she spotted Beauty on the top I-beam OCSR near the elevator shaft. The Beautyful one flew from there to the southeast corner of the Powers building railing-Donna and Ei gave me that report. Meanwhile, Carol arrived and found a juvie on the southeast corner of LT and a few minutes later I confirmed that and also found another juvie on the northwest corner.
Carla and Kathy joined the watch as things quieted down because of the rain. I invited watchers to go to Seneca Towers to look for those falcons (from the west side balcony on my 16th floor) -Ei,Carla, Joyce and Bonnie came over and we saw a juvie fly from the Veterans Memorial bridge down to land in a tree below us on the east side of the gorge-it then flew under the bridge out of view. An adult male (most likely Seth) flew past being chased by a screaming juvie and we were entertained by many fly-by's with the juvie landing on the west side railing for an up close and personal encounter of the fabulous kind!
It was a watchers weekend worthy of many smiles! 🙂
Click on the links below to see snippets of the weekend and a few snippets of the Seneca Towers juvie