Watcher Weekend Sunday Falcon Watch – 7/10/16
By Rochester Falcon Watcher Carol P.
Sunday morning was dark, dreary and chilly.  Rain was in the forecast and it lasted for quite awhile.  This morning a few of us braved the bad weather to look for our falcons.  Ei, MAK, Kathy O, Dana, Larry O and Carol P.
There wasn't much activity at first, but we did have two juvies on Legacy aka B&L.  Finally when it started to brighten and the rain stopped, the falcons began to fly.
Some Sunday Falcon Watch images.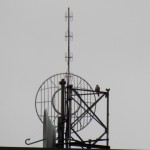 <— Leo with food on the Shoretel antenna, which is close to the Kodak Tower.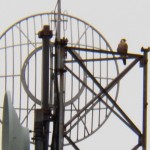 <— Leo on the Shoretel Antenna.
When Leo took off from the Shoretel antenna, he flew over the Frontier Field.  Gulls rose up from the field and the chase was on. Dana checked her pics and told us there was also a Kestrel on one of the field lights.  Beauty was watching from the Kodak Tower.
The next time we saw Leo, he was at the back of the Kodak parking lot, flying low, chasing a gull.  He was heading east towards the gorge.  We did check the gorge the best we could, but did not find him there.  We keep hoping.
Bonnie and Joyce joined the watch.
We headed back to Aqueduct St and found three of the four juvies on the Widow's Walk.  #4 may have been on the other side. Two of them were sharing a meal.
Beauty flew over us heading for Widow's Walk.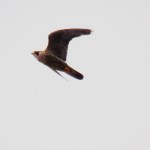 <— Beauty Flyover on way to Widow's Walk.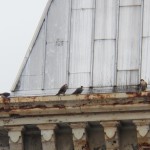 <— Beauty joined three of her young ones on Widow's Walk.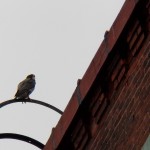 <— Beauty took a small piece of food to the ladder on the Wilder Bldg.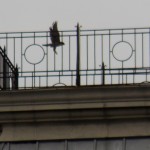 <— Beauty returned to Widow's Walk and landed on the south side railing.  A juvie knocked her off.
After that, we had all kinds of flying by the juvies.  They were everywhere, landing on all the buildings.  Dot.ca came in and did a mid-air food transfer to one of the girls.  She took it to the back of the Times Square Bldg.  We think it may have been Matilda.
Here's what we saw during our afternoon watch.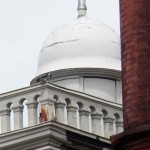 <— Dot.ca on corner of Power's Bldg after food transfer.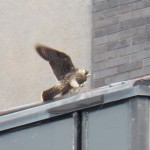 <— Aria on Cross Rds Bldg.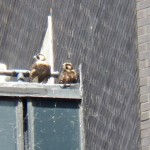 <— Lilac and Leo on Cross Rds Bldg.
Eileen and I were talking about how after fledging, the juvies would land on the Wilder Bldg and go behind the standpipe up there seeking shade.  A few minutes later, Leo flies over and lands on the Wilder Bldg standpipe!  It's like he heard us. lol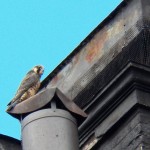 <— Leo on Wilder Bldg standpipe.
Leo remained on the Wilder Bldg, walking around a bit, before flying over to the the north side of the Times Square Bldg, back extension.  Lilac joined him there and immediately flattened out for a nap.  She had a full crop, so she wasn't hungry.  Leo on the other hand, found a bit to eat.
<— Leo eating on the Times Square Bldg.
We are fairly certain that we had all six Rochester Falcons during our watch today.
Our Saturday afternoon watch ended on the High Falls pedestrian bridge.  Carla joined me, Ei, Joyce, and Dana.  We hoped to see a falcon there.  No such luck.  🙁
At 3:00 pm, we said our goodbyes to the last out-of-town visitor left, Ei.  We always have such good fun on Watcher Weekend and it's sad to say goodbye.
Safe trip home everyone!  See you in 2017! 🙂