Sunday Morning Falcon Watch – 9/10/17
By Rochester Falcon Watcher Carol P.
It's been very quiet, falconwise, here in Rochester, NY.  There have been a few reports/tweets from regular watchers, Pat and Larry O.  Plus, both Beauty and Dot.ca are seen frequently on the Rfalconcam cameras, usually at the Powers Bldg nest box.
I've been watching the coverage of Hurricane Irma on TV.  It looks really bad.  I truly hope that all that are in the path of this deadly hurricane remain safe.  This includes my Aunt and Uncle and a friend's father, who decided to stay put.
I decided to get our for a couple hours this morning to look for our Rochester falcons.  Larry had reported that he saw both Beauty and Dot.ca this morning on the Frontier Communication Tower (FCT).  So, that's where I started.  I quickly found Beauty on the 2nd arm, facing west.
From the City Hall parking lot, I was able to see both Beauty and Dot.ca (DC).  DC was under the platform on FCT.
All was quiet, so it was time to check out the downtown area.  Here are some pictures of the view I had from the Court St. Bridge (CSB).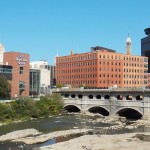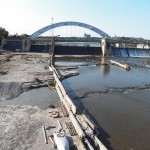 <— View from the Court St Bridge.
The new walkway behind the Dinosaur BBQ, over the Genesee River is coming along nicely.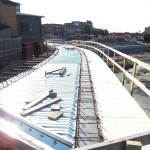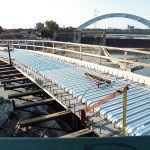 <— Genesee River Walkway behind Dinosaur BBQ.
Back at the Frontier Communication Tower.  Dot.ca was gone, but Beauty remained on the 2nd arm.  She had turned around and was now looking southeast.
All was quiet, so I texted that I was ending my downtown watch.  As sometimes happens, as I was leaving the area, I heard alarm kakking above.  By the time I got turned around, Beauty was gone.  I found her tucked in under the platform.  Not sure what upset her.  Maybe a hawk migrating through the area?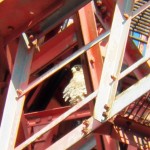 <— Beauty under the FCT platform, south side.
From the Andrew St Bridge (ASB), I found Dot.ca on the north side of OCSR, top Ibeam.  I could also see Beauty on FCT.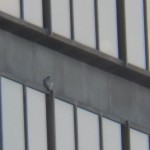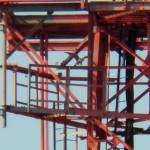 <— DC on OCSR/Beauty on FCT from ASB.
It wasn't long before Beauty took off.  She flew low, heading south.  I tried to locate her, but couldn't.  It was really time to end my Sunday morning watch.
On my way home, I passed Kodak Office.  The building south of the Kodak Tower is now home to the downtown Monroe Community College Campus.  Things are really changing.
A quick check at Seneca Towers from Maplewood Park.  No falcons seen or heard.