Live Video & New Camera Page In Time For Hatching!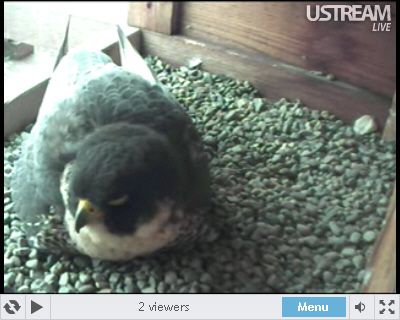 Year after year we've been asked why we didn't provide a live video feed from the Rochester Falconcam. There were a variety of financial and technical issues that kept us from offering video, and frankly we've preferred to concentrate on offering the highest quality still images available on any nature-oriented webcam site. But thanks to recent advances in Internet technology, it's now possible to provide live video "webcasts" at little to no cost, and without needing to maintain expensive streaming video servers and dedicated network connections.
Thanks to these improvements we're finally able to offer live streaming video along with the high-quality still images you've come to expect. So just in time for hatching to begin, we're very happy to announce the opening of the Rochester Falconcam Live Video Stream!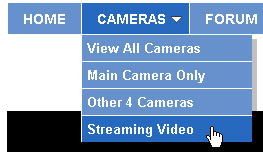 Simply go to the Rochester Falconcam, click Cameras at the top of the page, then choose Streaming Video. You may need to wait a few seconds for the video stream to appear. Just click the

button at the bottom of the screen to start playing the live webcast.
Now you can see and hear what's going on in the nest box day in and day out, 24/7. And if you can't watch all the time, don't worry. When we see something especially interesting, we'll record it and post it on the Rochester Falconcam channel at YouTube.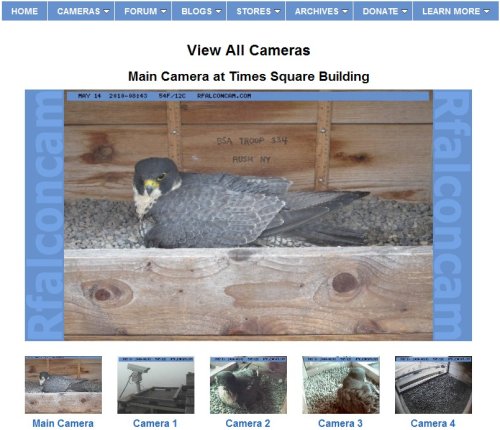 We've also improved our Camera layout on the website. Now you can see all of the camera images on a single page. Click the Cameras link at the top of the page and you'll find a new item on the menu called View All Cameras. The new view might not work with all Internet browsing software though, so we've left the Main Camera and Multi Camera pages in place.
Watching these magnificent birds in real time allows you to view a whole new side of Peregrine behavior that you may never have seen before. Go ahead and try it out! We think you'll like what you see.