Hatching is Under Way!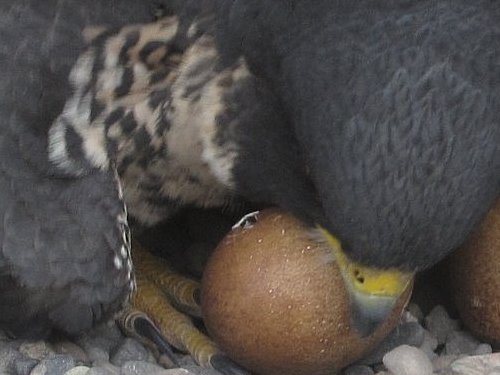 Viewers watching our new Live Video Stream have seen the first hole in one of the eggs that Beauty and Archer are incubating in their nest box high atop the Times Square building in downtown Rochester. The picture above shows a small hole in the top of the egg that Beauty is cradling.
The first stage of hatching is called pipping. Pipping occurs when the falcon chick, or eyas, pokes a hole in the egg shell. Gradually the eyas will enlarge the hole, then work its way around the shell until it cuts off the top and pops out. The process can take anywhere from a couple of hours to a couple of days (if you need a refresher on hatching, take a look at this article from 2007). And thanks to our new live video feed, you can watch it as it happens. You may even get to hear a peep or two from the hatching eyas!
If you haven't taken a look at the video feed yet, now's a great time to join the hundreds of Rochester Falconcam fans who are already watching. Hatching should continue over the next couple of days, so stay tuned to catch all the action!