Feeding Hungry Eyases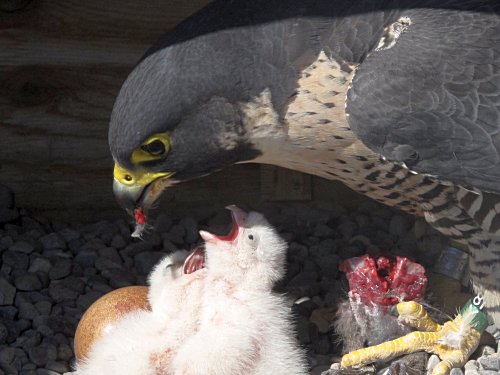 The two newly hatched eyases passed their first uneventful night tucked beneath Beauty for warmth and protection from the elements. The eyases can go for about a day before they need a meal, but that doesn't mean that they aren't hungry. In fact, they're pretty much hungry all the time! So you're likely to see a lot of feeding going on.
Our high-resolution Main camera caught some great pictures of the second feeding this morning, which took place at 10AM local time (the first happened five hours earlier). In the photo above you can see typical feeding behavior. Both eyases have their bills open in anticipation of getting fed. Archer delivered the food to Beauty and she took it into the nest box. She ripped small pieces of the prey (an unidentified small gray bird) and fed them to each of the eyases until they had enough.
How did Beauty know she'd fed them enough? Because the sated eyases lose interest in more food. They stop begging and lay down for an after-meal nap. Watch for this pattern to repeat itself as many as five or six times a day. By the time the eyases are five days old they'll have doubled in size! That takes a lot of food, delivered over many feedings.
Now that we have a live video feed, it's easier than ever to see how a feeding happens. Tune in if you haven't checked it out yet, and let us know what you think.