Good News! Genesee from 2015 has been Spotted! 6/30/16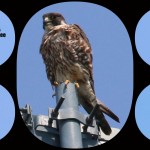 We wanted to share this good news with all our falcon fans. Especially those that watched our cameras in 2015. Remember Genesee? Well he's been spotted north of Rochester on a cell tower. Rochester Falcon Watcher Dana first spotted him a week ago, but could not get a positive ID. He was back on Sunday and watchers Carol and Joyce joined her to try to get an ID.
Dana finally was able to get a picture showing his bands and Carol verified through her scope.
We are always happy to see one of our young ones doing so well a year after they fledge. Here is a picture showing Genesee as he took his first flight from the Times Square Bldg.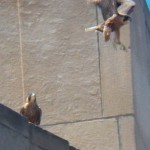 More pictures of Genesee from 2015!
If we get any more pictures of Genesee, we will post them here.