Ogdensburg, NY Welcomes a Rochester Falcon

Photo courtesy of Jim Pisello
It seems that every time we turn around we get more news about one of Mariah's offspring. The latest comes to us courtesy of Barbara Loucks at the DEC. She emailed us recently with the following report.
I just got a report this morning that one of the falcons at the [Ogdensburg-Prescott International Bridge in Ogdensburg, NY] had its band read by our long time peregrine/eagle observer Mary Beth Warburton as black over red, M over sideways T, which I looked up while still on the phone with her. It was banded on June 1, 2006 at the Kodak site in Rochester. Mary Beth originally thought this bird might be a male based on size, and when I checked my notes this was the runty bird of the three females banded that year – but we had to band it as a female based on leg size.

This points out yet another peril of [naming wild birds] – as "Sabrina" may turn out to be something else! Time will tell as to whether this bird is indeed a female or a large male. There is no proof of nesting yet and this bird is new this year to the site.

Mary Beth will keep us informed as things progress. She thinks this is the bird that was dive bombing an immature female earlier in the week at the bridge; moments later the two birds were joined on the Canadian side by a third and pigeons were scattering everywhere.
Yet more great news! It sounds like Sabrina might need to be renamed, if it turns out the other bird keeping company with "her" is a female. Luckily, Dan Stiehler, the long-time Rochester falcon watcher who named Sabrina in 2006, also submitted a male name, Valiant. So, if it does turn out that Sabrina is a he rather than a she, we have a fitting name for him. Hopefully Mary Beth will be able to observe Sabrina and the other falcon mating. We'll let you know as soon as we hear any more news from New York's northern border!
---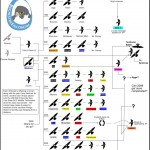 All the recent revelations and sightings of Mariah and Kaver's offspring might be leaving everyone a little confused. Our friend Tom Hoehn (Cornpoppy) from Kodak decided to help us make sense of everything by updating the Rochester Falcons Family Tree. Take a look and see how much clearer it all becomes when it's mapped out…
Tags: ogdensburg, sabrina