Rochester's New Female Identified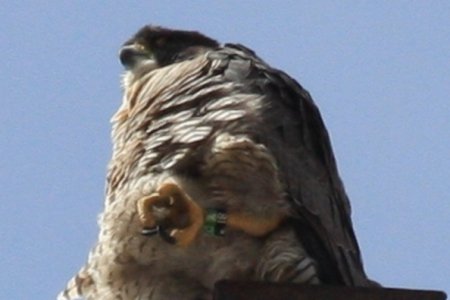 Photo Courtesy of Joyce Miller
Sunday brought together all the right factors– bright clear weather, plenty of photographers and observers, and not least a cooperative falcon– to allow us to positively identify the female Peregrine who has taken Mariah's place in downtown Rochester. Falcon watcher Joyce Miller, who also got the definitive shot of Archer's ID band, managed to snap this image of the female showing off her black and green bracelet. For those who can't quite make out the ID, it's 81/Y.
Yesterday evening we sent the photo and band ID off to some of our contacts including Barb Loucks and Mike Allen at the DEC. Today we heard back from them as well as Juanita Woods and Art McMorris from the State of Pennsylvania, and from them we've received the following history:
81/Y was was hatched and fledged in 2007 from the University of Pittsburgh's Cathedral of Learning. Her parents are Erie *T/W (1998 Rhodes State Office Tower, Columbus, Ohio) and Dorothy 5/*A (1999 Firstar Center, Milwaukee, Wisconsin). Erie's parents were an unbanded male named Bandit and his 1st mate Aurora red 4R0 from Canada. Dorothy's parents were Bill 74T (hacked in 1991 from Madison Wisconsin) and Sibella 20V (hacked in 1988 from Isle Royale, Keweenaw County, Michigan).
She received her ID bands on May 31, 2007. Her USFWS band has ID#1687-00506, and was initially covered with blue tape that has since fallen away. Pennsylvania doesn't name the falcons they band, but her local watchers, Kate St. John (the "Peregrine Lady" of Pittsburgh) and Karen Lang, informally called her Beauty (both the name and the color of her tape began with the letter "B"). Kate writes a blog where she'll be sharing the news about their former fledgling.
So welcome to "Beauty", 81/Y! Everyone at the Rochester Falconcam is thankful to Juanita, Art, Kate, Barb and Mike for their help in tracking down the story of our newest Peregrine. We also want to extend our gratitude to Lou Capuano and Jim Pisello who photographed her and contributed to the ID effort, and the many watchers who have been looking out for this new pair of Peregrines.
We're considering what to do about the fact that she doesn't have an official name. For now we'll continue to call her Beauty, but you know that Rochester has a long history of providing unique names for our falcons, so who knows what the future holds…?