Monday, August 23rd, 2010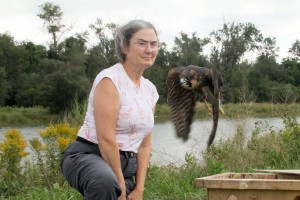 Updated with video clips – see below!
After six weeks of rehabilitation, we received word late last week that Jemison was hunting & killing her own food and flying competently in a 180-foot (55 meter) flight cage. Since she was doing so well, the rehabber and DEC biologists determined that she was ready for release.
So at lunchtime today, members of the Genesee Valley Audubon Society and the Rochester Falconcam met the DEC's Mike Allen at the Montezuma National Wildlife Refuge, about 45 miles (72 km) east of Rochester. Alert readers may recall that Montezuma was the site of Mariah's release following her stint in rehab last year.
After picking up refuge Manager Bill Stewart, the group took a short trip along Montezuma's wildlife drive and found a convenient spot away from highway traffic. Mike and Bill placed Jemison's wooden carrier on the gravel and the Audubon Society's June Summers released the lid. Jemison took off right away, flying close by Falconcam member Jim Pisello before climbing high over the wetland.
Jim provided some pictures of the event. You can view them by clicking the picture at the left. Falconcam members Kathy Olney and Carol Phillips took pictures and videos too. Here are a couple of video clips courtesy of Carol Phillips:

Jemison is released from the carrier

Jemison flying
As Carol noted, this was the best outcome we could hope for. Everyone at the release agreed that Jemison was flying well, with no trace of an injury. She gained altitude before soaring away to the north and west. Will she return to Rochester, or strike out for some new destination? We can only wonder where her travels will take her. Wherever it is, we know the good wishes of her many fans will go with her.
It truly is a group effort to make sure that these young peregrines have the best opportunity to lead successful lives. The Rochester Falconcam is grateful for the dedication of Mike Allen, Jenny Landry, Barb Loucks and everyone at the DEC & the rehab staff who took care of Jemison and returned her to flight status. Special thanks also to Dr. Balonek and all the folks at the East Ridge Animal Hospital; Dr. Parsons, Gary and the staff at the Black Creek Wildlife Center as well as the Rochester Animal Control; and Bill Stewart and everyone at the Montezuma Wildlife Refuge. And of course, we want to acknowledge the many volunteers who keep an eye on Jemison and all the Rochester falcons year after year. Your efforts are all appreciated!