Monday, March 30th, 2020
This morning, at approximately 10:52 am, Beauty laid her 4th egg.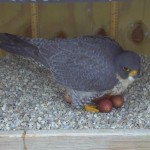 She has never laid more than four eggs in a season. If she does lay a fifth egg, it should happen on April 1st at approximately 8:00 pm (give or take).
In the meantime, they will probably start hard incubation now. It won't be long before small, white fluffy eyases make an appearance!
Please stay safe everyone!