Sunday, January 8th, 2017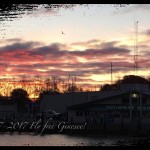 It is with a very heavy heart and much sadness that we have to report the passing of our young tiercel, Genesee.
The Rochester Falcon Watchers have been watching him since his return to the Rochester area last year. He was mostly seen in the Charlotte/Summerville area, but there were reports from birders seeing him along the lake shore hunting as far east as Sodus. We were all very happy to recently learn that Genesee had found a mate.
Yesterday, 1/7/17, Rochester Falcon Watchers Dana Mulhern and Carol Phillips were out checking the lakeshore, hoping to find Genesee and his mate. When driving over the Irondequoit Bay Bridge they spotted a falcon down on the road. They contacted the DEC and Officer Snowden retrieved the falcon. He kindly let us know that it was in fact Genesee and it looked like he had been hit by a car. There was a dead Merganser nearby and he thought that may have been what caused Genesee to come down to the roadway.
Genesee made it thorough that very hard first year which a large majority of young falcons do not survive. He found a mate and we had high hopes that, with her, he would raise young of his own.
Fly Free Genesee. We will miss you.