Saturday, April 11th, 2015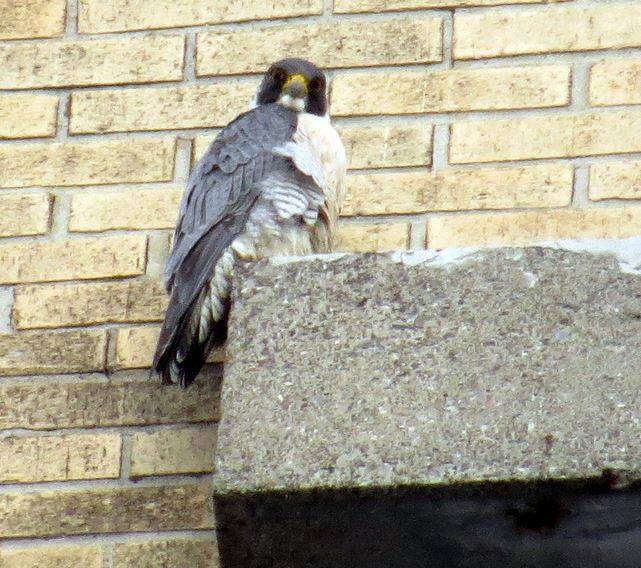 As many of our readers may recall, a pair of Peregrine falcons became frequent guests at Seneca Towers last year. One was a banded female from Luzerne County, PA. The other was an unbanded male. Two naming contests were held, and the winning names were Luzerne and Veteran.
Sadly, Luzerne was found dead in July, but another female, Billie (formerly Billy) from Buffalo, was spotted with Veteran in August. The two remained together until September when Veteran disappeared, presumably migrating south for the winter. A 2nd tiercel was soon spotted with Billie. He was banded and still wore yellow tape on his USF&WS band indicating that he was fairly young. His other leg sported a black over green band with 99/BA printed on it. A bit of investigating uncovered his banding records, which showed that he was not given a name at that time.
Of course, not having a name didn't stop our watchers from calling him something other than "banded tiercel with yellow tape on one leg and black over green on the other" (the 99/BA part wasn't determined until later). He was temporarily referred to as Mr. Yellow Tape, but given that the tape could fall off at any moment rendering this name obsolete, another name was needed. We could have chosen to hold another naming contest, but that would have been a lot of effort for a falcon that may have just been passing through on migration. Another option was to call him Seth, the runner-up in the contest that named Veteran, but we did not want to "use up" that name on a visitor that could be leaving in a few days. So instead, he came to be known as 99, a good temporary name for a migrating falcon that surely would be leaving soon, or at least in early spring when Veteran returned.
Well, 99 didn't leave. He stayed all winter and is now Billie's mate, which raises the question of what to call him. Do we stick with 99, or should we change his name to Seth? Or should we run another naming contest? We decided to ask the falcon watching community for their opinion.
We created a poll on the Rfalconcam Forum and asked members to  choose one of the following:
Keep the name 99
Change his name to Seth
Allow name submissions (start another naming contest)
The poll ran for two weeks, and today we are pleased to announce that the community has decided to change 99's name to Seth.
Rfalconcam Forum Poll Results
| | |
| --- | --- |
| Keep the name 99 | 38.9% |
| Change his name to Seth | 58.3% |
| Allow name submissions | 2.8% |
By the way, the name Seth was originally submitted in honor of Seth Green, the namesake for the road that Seneca Towers is located on, and the nearby park. Seth was a well known fisherman in the Rochester area and instrumental in the fish hatching industry.