Thursday, March 25th, 2010
We have a flurry of information to bring you regarding Mariah and Kaver's offspring, so here we go!
Seneca and Cheyenne
We begin with some really terrific news. Our colleagues at the Cleveland Museum of Natural History have had a falconcam of their own focused on the pair at the Terminal Tower for many years. Now it appears they have another pair in town. Our very own Seneca from 2008 appears to have displaced another female named Ely and taken over a nest site on the Brookpark Road Bridge just outside of Cleveland! Not only that, but she has a mate named Cheynne. He was also hatched in 2008 from a nest in nearby Akron, Ohio.  It hasn't escaped our notice that both of these falcons carry the name of a Native American tribe.  What a wonderful coincidence!
This news is pretty recent; Seneca was only discovered a couple of days ago by one of the local watchers named Kim. She contacted Chris and Chad Saladin, who've been longtime observers (and extraordinary photographers) of the Cleveland area falcons. They were able to read her band and quickly make an ID. Today they published a bunch of photos of Cheyenne and Seneca mating, as well as some solo pictures of each. Here are a couple of Seneca:
Isn't she gorgeous? Our sincere thanks go out to Chris and Chad for the excellent pictures, and to Kim for finding Seneca. You can follow Seneca and Cheyenne as they build their new family on the Seneca thread in our Forum.
Rhea Mae and Tiago
Rhea Mae and Tiago have laid their first egg at their nest box on the Sheraton Hotel in midtown Toronto.  According to watcher Linda Woods over at the Canadian Peregrine Foundation:
Rhea [Mae] had been spending many nights sitting at the nest ledge. But last night she was on the nest tray. After dark she climbed into the tray and laid down. This morning, egg # 1!
It looks like 2010 will be another productive year for Rhea Mae, Mariah's daughter from 2006. You can follow all the news about her at the Rhea Mae thread in our Forum.
Quest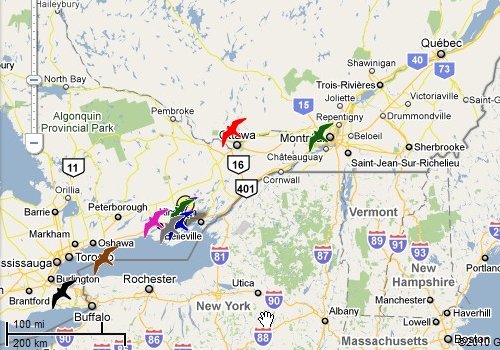 Quest has had one of her busiest weeks yet, covering several hundred miles from as far north as Ottawa and Montreal, down south to Lake Erie.  In between she spent a few days at her familiar hunting grounds near the Lennox Power station and at Prince Edward Point.  It's anyone's guess as to where Quest will settle down, if she ever decides to stop globetrotting, that is!