Tuesday, May 24th, 2016
This morning, at approximately 10:30 am, our friends from the DEC (Department of Environmental Conservation) arrived to band the four eyases in the nest box on top of the beautiful Times Square Building. All involved gathered in an office on the top floor. Assignments were handed out and it was soon time to collect the eyases.
The extraction went very well. Both Beauty and Dot.ca were flying overhead, back and forth.
All four eyases were put into separate buckets.
They were carried down to the room where all the banding equipment was set up.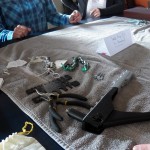 Each eyas was given two bands, a silver USFW (US Fish and Wildlife) band and a New York State Band. Three of the silver USFW bands was covered with colored tape, red, blue and yellow. The fourth one was left uncovered by tape. This will help the Rochester Falcon Watchers to more easily identify the young falcons after they have fledged (taken their first flights).
They also received their new names. Please join us in welcoming this year's newest Rochester Falcons.
Matilda (Female) – (Battle Maiden) of Gothic derivation, derived from words corresponding to Old High German "mahta" (meaning "might, strength") and "hildr" (meaning "battle")
This name was chosen by Rochester Falcon Watcher MAK (Margaret Kurtz)
Black 84 Over Green BA – Red Tape over USFW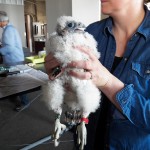 Aria (Female) – Aria, which means wind and, in some meanings, bird.
This name was chosen by Rochester Falcon Watcher Jeanne Yamonaco
Black 85 Over Green BA – Blue Tape over USFW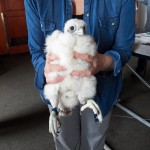 Lilac (Female) – for Rochester's signature flower. Rochester's most beautiful flower is paired with Rochester's most beautiful birds.
Name Submitted by Susan Stifter of Rochester; J.R. of Scottsville, NY; and Melissa Slaughter.
Black 86 Over Green BA – Yellow Tape over USFW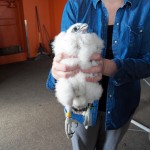 Leo (Male) – the lion. Fifth sign of the zodiac, personalities are strong and created to shine. Also a constellation.
Name chosen by Peggy Quinn's 4th Grade Class at Pine Brook Elementary School, Greece, NY.
Black 22 Over Green BA – No Tape over USFW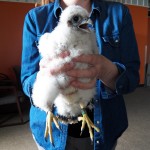 After all the eyases were banded, they were quickly returned to the nest box and the care of their parents.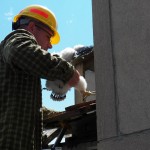 Both Beauty and Dot.ca continued to fly overhead as the eyases were returned.
Each year, the DEC will collect all the debris in the nest box. This will help them to determine what the falcons are eating.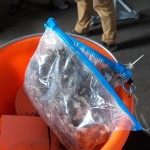 The banding went very smoothly and we here at Rfalconcam and the Genesee Valley Audubon would like to give special thanks to the folks from the DEC. We so appreciate them for all they do! Thank you!