Monday, March 31st, 2008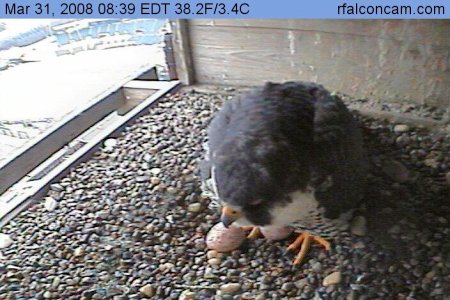 Egg-citement reigns here at the Falconcam! At about 8:30 this morning, 106½ hours after laying her first egg, Mariah came through with number two. You can see the newest egg between her feet in the picture above, captured only a few minutes after it was laid.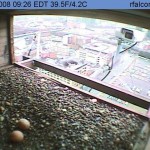 Here's another look at the two eggs. Mariah's normal egg-laying interval of about 54 hours stretched last year to an average of over 70 hours, thanks to a long 106 hour period between eggs 2 & 3. Today's longer interval equals the longest one she had last year. This may be due to her age, or it may be influenced by other factors.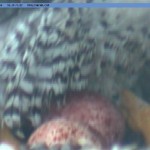 Here's a close-up of the eggs courtesy of the Rochester Falconcam's zooming Camera 1. Peregrines normally lay an egg every 2-3 days, with the time between eggs getting longer as the falcon ages. We think Mariah's at least 12 years old, so her advancing years could certainly explain these longer times. They might also have something to do with the recent battle for control of the nest box territory in which she and Kaver drove off an invading falcon. It's impossible to say for sure, so we'll just have to keep watching to see when her next egg will arrive!
-Jess