Monday, August 30th, 2010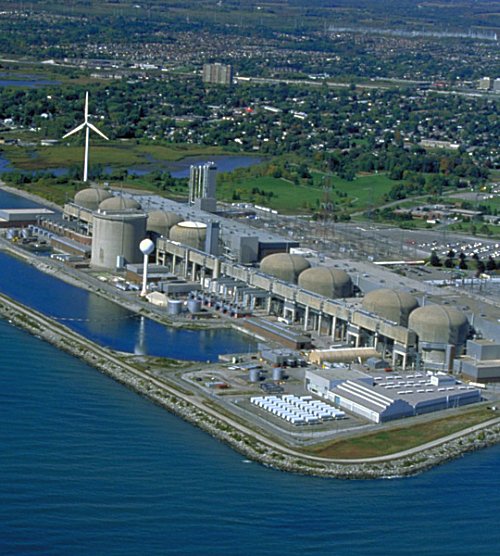 Playing a hunch, local Rochester Falconcam members "Shaky", Carrie, Carol and Kathy made an impromptu trip to Pickering, Ontario over the weekend to look for Quest. Her transmitter data have been very consistent over the past several weeks and they were hoping to find her.
The team's good fortune was rewarded on Saturday when they located her at the Pickering Nuclear Generation Plant on the shore of Lake Ontario! Because of the high security around the facility (pictured above) and it's shear size, the watchers weren't able to get close enough to see her antenna, but positional data from her satellite transmitter placed her at the plant at the same time as the sightings, so all the available data point to this falcon being Quest.
Not only that, but it looks like Quest may have found herself a mate! The watchers reported that she was flying with a smaller falcon, making "ee-chupping" sounds typical of mated pairs, playing "talon tag" in the sky, and generally acting friendly toward each other. Unfortunately they weren't able to get a picture of Quest, but Carol Phillips posted some pictures that show the male falcon. He appears to have a very white breast. You can see Carol's picture album by clicking here.
It remains to be seen whether Quest and her tiercel will make the Pickering Power station their home, or choose another location. We're in the process of contacting the Canadian Peregrine Foundation for assistance. Obviously a nuclear power plant is a sensitive location, so we're hoping that if Quest does decide to settle down there, the CPF can work with the Ontario Ministry of Natural Resources (MNR) and Ontario Power Generation to erect a nest box on the site. It's probably too early to make those kind of plans right now, but it's good to know that Quest is beginning to build a family.
We don't recommend going to the plant to see her, but if you decide to try for a look, be aware that security is extremely tight at this sensitive location. Our watchers were questioned multiple times over the weekend by security personnel from various agencies. In these times of heightened terrorism awareness it's might be best to steer clear of the power plant. Quest's transmitter data show that she's been visiting the area around nearby Tam O'Shanter Park quite frequently. That would seem to be a better place to try to view her in our opinion.